All the new releases flopped, including King Arthur: Legend Of The Sword and Power Rangers.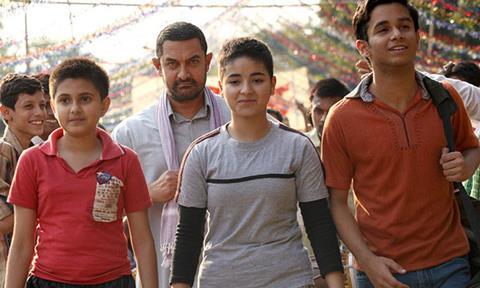 In a surprise upset, Indian sports family drama Dangal beat defending champion Guardians Of The Galaxy Vol 2, both in their second week. The Indian film, which opened in fifth, moved to the top spot of the Chinese box office in the week of May 8-14.
It earned $47m for $59.4m after 10 days, making it the top grossing Indian film ever in China, overtaking 2014's PK, also starring Bollywood superstar Aamir Khan. When released last year in India and North America, it became their highest grossing Indian film until it was overtaken by Baahubali: The Conclusion last week.
Dangal is based on a true story about a father who, against gender stereotypes, trains his daughters to be world-class wrestlers. It has scored high ratings, over 9 out of 10, on both online ticketing platform Maoyan and film review website Douban, which may reflect a shift in audience preference that it is not all about Hollywood blockbusters.
After a strong opening, Disney's Guardians Of The Galaxy Vol 2 dropped heavily in its second week with $30.4m for $79.3m after 10 days. It may outperform its 2014's predecessor, but unlikely to match the success of Doctor Strange which had a similar opening weekend.
There's no shortage of new films hitting screens last week, but all of them were given the cold shoulder in China. Warner Bros' King Arthur: Legend Of The Sword opened in third with $5.2m from its first three days; ahead of Shock Wave with $4.0m for $54.9m after 17 days.
Hong Kong drama Dealer Healer, starring Lau Ching Wan and Gordon Lam, debuted in fifth with $4.0m from its first three days; followed by local comedy What A Wonderful Family on $3.8m from its first four days; and Lionsgate's Power Rangers on $3.4m from its first three days.
Rounding up the weekly chart were holdovers The Fate Of The Furious on $3.4m for $378.3m after 31 days; Battle Of Memories on $2.2m for $41.1m after 17 days; and This Is Not What I Expected on $1.5m for $29.4m after 18 days.
Upcoming releases include Life, Guardians, A Monster Calls, Wine War and Come Across Love, all dated for May 19.