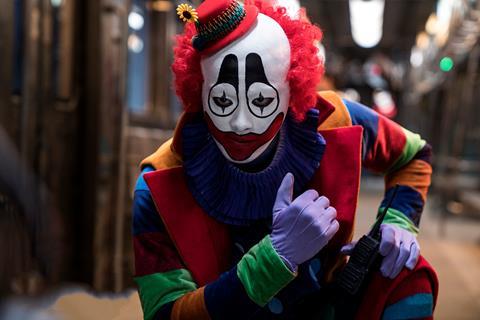 The last week of June (Jun 25-Jul 1) marked the beginning of a two-month onslaught of Chinese summer blockbusters. The first of which is Animal World which opened top, ending the 14-day No.1 reign of Jurassic World: Fallen Kingdom.
Based on the Japanese manga by Nobuyuki Fukumoto, the Chinese gambling adventure took $35.9m from its three-day opening weekend (including previews). It follows a young man played by Li Yifeng who is forced to take part in a violent game when trapped on a gambling ship.
The film, which recently opened the Shanghai International Film Festival, is directed by Go Away Mr Tumor's Han Yan and also toplined by Michael Douglas.
Universal's Jurassic World: Fallen Kingdom fell to second place with $30.6m after staying top for two weeks. Its 17-day total of $219.1m has surpassed its 2015 predecessor to become the sixth highest grossing foreign film of all time.
Disney/Pixar's The Incredibles 2 dropped to the third with $18.6m for $38.1m after 10 days. It has become the second highest Pixar animation in China, after last year's Coco.
Escape Plan 2: Hades launched in fourth place overall with $10.1m from its first three days. The action flick, starring Sylvester Stallone, Dave Bautista and Chinese actor Huang Xiaoming, opened in second place on Friday, but soon lost its momentum and slid down to fourth and fifth on Saturday and Sunday respectively, even behind holdovers Jurassic World: Fallen Kingdom and The Incredibles 2.
Xu Zheng's latest comedy Dying To Survive reached the top five with $7m based on preview screenings only; ahead of local holdovers Xiao Shenyang's The Way Of The Bug on $4.5m for $27.4m after 17 days and Li Xinyun's Lobster Cop on $3.1m for $9.5m after 10 days.
Wong Kar Wai's Days Of Being Wild received a theatrical release in China for the first time, 28 years after its Hong Kong release in 1990. The Hong Kong classic, starring the late Leslie Cheung, Maggie Cheung and Carina Lau with a special appearance of Tony Leung Chiu-Wai, took $2m from its first seven days through National Alliance of Arthouse Cinemas (NAAC).
Rounding out the weekly charts are local comedy Happiness Is Coming on $1m for $11.5m after 24 days and Herman Yau's Hong Kong crime thriller The Leakers on $0.8m for $9.9m after 17 days.
This week's new releases include Dying To Survive and New Happy Dad And Son 3: Adventure In Russia, both opening on Jul 6.