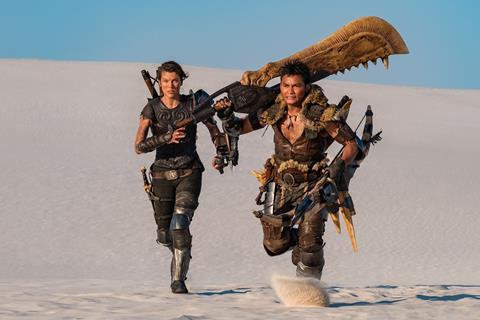 US action adventure Monster Hunter, produced by Constantin Film and Impact Pictures, was pulled from Chinese screens over the weekend following an online outcry over dialogue in the film that was perceived as being a racial insult.
The film, which has been co-financed with China's Tencent and Japan's Toho, opened on Friday, December 6, and grossed around $4.8m on its first day, ranking third behind two local releases, before disappearing from screens on Saturday.
Although authorities finally requested the withdrawal of the film, the controversy originated among Chinese netizens incensed by a few lines of dialogue between a white male character and an Asian male character, played by Asian-American rapper MC Jin.
It's understood a new version of the film has been prepared, but it hadn't been released as of Monday lunchtime in Beijing. Capcom Asia, the producer of the video game that the film is based on, issued a statement to say it had no role in producing the film.
In the offending lines, Jin's character shouts "Look at my knees!", to which his companion replies "What kind of knees are these?" and Jin responds "Chi-nese!". Chinese netizens interpreted the lines as a reference to a racist schoolyard ditty. The film's Chinese subtitles didn't mention the pun, leading to accusations of a cover-up.
The film, directed by Paul W.S. Anderson and starring his wife Milla Jovovich, was expected to do well in China as it reunited cast and crew from the Resident Evil franchise and China's box office market has rebounded strongly from the Covid-19 shutdown earlier this year. The last film in the Resident Evil franchise, Resident Evil: The Final Chapter, grossed $168m (RMB1.1bn) in China in 2017.
Although Monster Hunter hadn't had a stellar first day, its withdrawal left the field clear for two local releases to top the weekend box office (December 4-6). Romantic fantasy The End Of Endless Love topped the chart with $22.6m, according to figures from theatrical consultancy Artisan Gateway, followed by Edko Films' CGI fantasy Soul Snatcher on $19.5m.
The Croods: A New Age came in third with $11.7m, for a cumulative total of $36.1m, followed by Emperor Motion Pictures' Caught In Time, with $6.1m for a cume of $73.2m, and then Monster Hunter in fifth.
Universal's The Invisible Man, starring Elisabeth Moss, also opened over the weekend, but as of Monday was ranking sixth on $1.4m behind Zhang Yimou's One Second according to online ticketing platform Maoyan.