The latest instalment of the James Bond franchise debuted with an impressive $48.55m over its three-day opening weekend.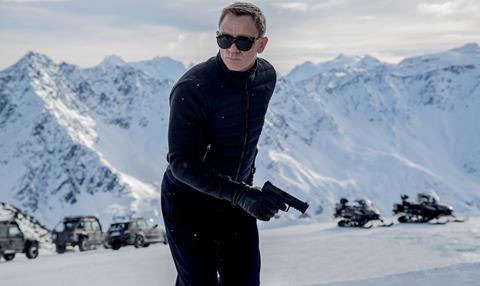 Spectre has broken several new records in China, including the biggest three-day opening debut for a 2D US film of $48.55m, which contributed to almost half of last week's total box office takings.
Its $15m opening day was also the biggest for a James Bond film as well as for a Sony film. It will have no trouble besting the total of the last Bond film, Skyfall, which took $59m in 2013.
Local love comedy Ex Files 2: The Backup Strikes Again continued to stay at the second position and added $17.27m from $34.66m after 10 days.
Former champion Fox's Maze Runner: The Scorch Trials dropped to third place with $8.23m. With $29.83m after 12 days, the sci-fi action thriller sequel has surpassed its predecessor, which finished with $23.99m last year.
Among the three new Chinese offerings in last week's top ten, A Journey Through Time With Anthony fared the best at fourth place with $6.34m over its three-day opening weekend.
Directed by Janet Chun from Hong Kong, the romance drama is based on a bestselling novel about the life and love of a Chinese student studying abroad.
Starring supermodel Liu Chang and Monster Hunt actress Bai Baihe, it marks actress Zhou Xun's first outing as a producer.
The other two new local titles were also youth films. Single Man director Hao Jie's latest film My Original Dream opened in eighth place with $1.77m after five days.
Premiered recently at Tokyo, it portrays the wanderings of a man's heart and traces his love for a woman from junior high school to adulthood.
Dai Rui's This is Me opened at tenth place with $1.52m over three days. Starring You're The Apple Of My Eye actress Michelle Chen and Zheng Kai from Ex Files 2, the film follows the love and dreams of a group of university students before their graduation.
Holdovers Universal's Everest was pushed to fifth and added $3.87m from $15.57m after 13 days; followed by The Last Women Standing which took $3.25m for $9.51m after 10 days; and The Witness, the Chinese version of Korean thriller Blind, added $2.46m from $33.71m after 17 days.
Sony's Hotel Transylvania 2 dropped to ninth with $1.74m for $17.90m after 20 days.
Competition is set to intensify later this week with the opening of Taiwanese hit Our Times on November 19 and of Hunger Games: Mockingjay - Part 2 and The Transporter Refueled on November 20.