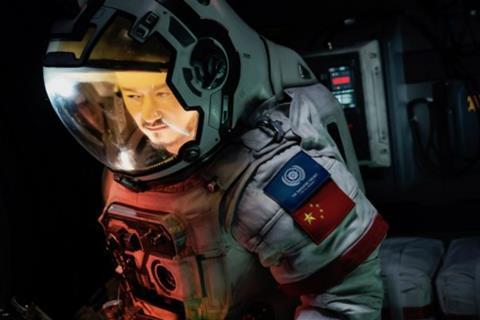 After the end of the prime Chinese New Year holidays, the Chinese box office began to cool down with a 45% week-on-week contraction in the week of Feb 11-17. But the good news is the ticket sales in February are set to top the figures in the same month last year, which held the world record for the biggest single month in a single market.
While the Chinese New Year titles still dominated the box office with the top three positions remained unchanged from the week before, the new releases for Valentine's Day fared less well.
After coming back from behind, Frant Gwo's big-budget sci-fi film The Wandering Earth topped again for the second week, adding $251.6m for $538.9m after 13 days. It has edged out last Chinese New Year's top two films Red Sea Operation and Detective Chinatown 2 to become the second biggest film of all time. It is only behind Wolf Warrior 2, which also stars The Wandering Earth's Wu Jing.
While the Chinese New Year battle has always been intense, The Wandering Earth is uncharacteristically leading up by a huge margin as its cumulative gross has almost doubled that of the runner up.
Comedy Crazy Alien, starring Huang Bo and Shen Teng, maintained in second place with $75.6m for $282.6m after 13 days. Already the biggest film for director Ning Hao, it is now the 15th highest grossing film of all time, surpassing Transformers: Age Of Extinction and The Ex-File 3.
Han Han's car racing drama Pegasus trailed closely in third with $62.4m on $211.4m after 13 days, narrowing the overall gap with Crazy Alien. Also starring Crazy Alien's Shen, it is now the 26th biggest film of all time, surpassing Warcraft and Avengers: Age Of Ultron.
Celebrating the Year of the Pig, pig-themed animation Boonie Bears: Blast Into The Past remained bullish as it moved up to fourth place with $25.8m, overtaking New King Of Comedy. Standing at $91.6m after 13 days, it has outgrossed Boonie Bears: The Big Shrink, delivering a new record for the six-film franchise as well as becoming the second biggest local animation of all time, only behind Monkey King: Hero Is Back.
This year's Feb 14 has set a new Valentine's Day record, with ticket sales up by 77% year-on-year. Capitalising on the romantic occasion, Fall In Love At First Love opened on the day itself (Thursday), but only in third place held off by the Chinese New Year holdovers The Wandering Earth and Crazy Alien. The high-school romance which reunites Taiwanese director Frankie Chen with actor Wang Dalu and also co-stars Jelly Lin (The Mermaid) dropped to the fifth from Friday onwards, taking $18.6m from its first four days. It is unlikely to match Chen's 2015 directorial debut Our Times.
Stephen Chow's The New King Of Comedy about a struggling actress fell to sixth place with $9m for $85m; ahead of Yan Jia's period action fantasy The Knight Of Shadows: Between Yin And Yang, starring Jackie Chan and Taiwanese actor Ethan Ruan on $2.3m for $20.7m and Alan Mak's Hong Kong anti-corruption thriller Integrity, starring Lau Ching Wan and Nick Cheung, on $1.6m for $15.2m, all of which after 13 days.
Japanese fantasy romance Tonight, At The Movies, the only non-Chinese-language film in the weekly top 10, launched with $1.4m from its first four days, which tied with local animation Peppa Pig Celebrates Chinese New Year on $1.4m for $17.4m after 13 days.
The Wandering Earth may face a strong contender this week as Alita: Battle Angel is scheduled for Feb 22.