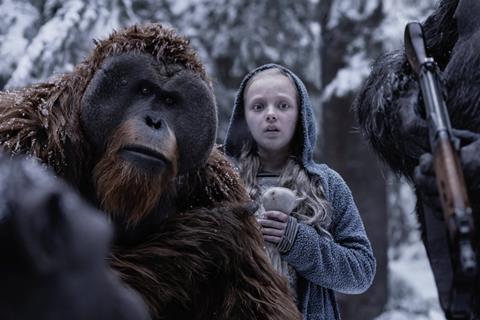 It was the lull before the storm last week (Sep 17-24) when the box office downsized to $85.23m, making it the second worse performing week this year.
But fret not, the contraction was not unexpected, which is usually the case prior to the week-long National Day holidays, and will be lifted when several blockbusters make their grand entrance.
In this quiet week without strong contenders, Fox's War For The Planet Of The Apes retained the No.1 crown with $38.92m for a 10-day total of $100.77m. It is still about $8m behind the second installment, 2014's Dawn Of The Planet Of The Apes. Only a few days are left for it to achieve a new record for the franchise before the National Day blockbusters are unleashed.
The Hitman's Bodyguard debuted in second place with $13.78m from its three-day opening weekend. The action comedy, starring Ryan Reynolds and Samuel L Jackson, both of whom are not unfamiliar to Chinese audiences, was the only new release in the top five.
Spanish suspense thriller The Invisible Guest (aka Contratiempo) moved up one place to the third with $11.23m for $16.31m after 10 days, overtaking Spider-Man: Homecoming and Japanese animated fantasy adventure Sword Art Online: Ordinal Scale. Despite its delayed release in China, the 2016 film has gained solid traction through strong word of mouth and has now become the highest grossing Spanish film.
Sony's Spider-Man: Homecoming dropped further to the fourth with $10.47m for a 17-day total of $116.15m. Already the biggest Spider-Man film in China, it has also overtaken Logan to become the top superhero film this year and surged past Iron Man 3 to become the third highest grossing Marvel Universe film in China.
Local family drama Please Open your Window, first released in 2016, has re-entered the chart with $1.94m; slightly ahead of Wolf Warriors 2's $1.83m for $871.08m after 60 days. Wu Jing's mega-blockbuster, previously extended for one month, will stay in the theatres for a third month till Oct 28.
UK animation Thomas & Friends: The Great Race opened in seventh with $1.69m from its first three days; followed by Japanese animated fantasy adventure Sword Art Online: Ordinal Scale on $1.68m for $7.94m after 10 days; Christopher Nolan's Dunkirk on $0.76m for $52.02m after 24 days; and local war drama Defenders on $0.59m from its first three days.
This week will see several heavyweight openings for the National Day holidays. City Of Rock and Sky Hunter are dated for Sep 29, while Never Say Die, Chasing The Dragon and The Foreigner are for Sep 30.
Also originally scheduled to open on Sep 29 was Youth, a highly anticipated 1970s coming-of-age drama directed by I'm Not Madame Bovary's Feng Xiaogang.
But just five days before its scheduled opening, the new film was abruptly pulled from cinemas, as acknowledged by Feng yesterday through Chinese social media platform Weibo.
The film recently had its world premiere at Toronto. Both the promo tour and advanced ticketing were underway for its domestic release before its withdrawal. No new release date has been announced.