EXCLUSIVE: China Film Archive set to distribute both foreign and local arthouse titles through new theatrical circuit that creates a long-awaited third channel for imported films.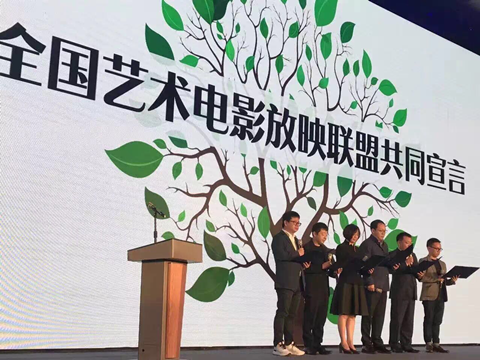 Beijing-based China Film Archive (CFA) is set to start distributing both imported and Chinese arthouse films through the recently-launched National Arthouse Film Alliance, which has established a theatrical circuit of around 100 screens.
The long-awaited move creates a third distribution channel for specialist and award-winning titles in China, which have struggled to enter the market through the existing quota system.
CFA, a state-owned cultural body that organises film festivals and screening programmes, has created the alliance with Huaxia Film Distribution, Wanda Cinema Line, Bill Kong's Broadway Circuit, Jia Zhangke's Fabula Entertainment and ticketing platform Weying Technology.
The alliance has created a circuit of around 100 screens across the country, which has pledged to give regular platform releases to specialist titles from both China and overseas. The circuit includes theatres operated by leading exhibitors including Wanda, Broadway, Lumiere Pavilions, Qujiang Film and Television and regional circuits in Jiangsu, Chongqing and Hubei provinces, among others.
According to China Film Archive director Sun Xianghui, films will be curated in themed series such as youth, romance and classics, both foreign and Chinese, in a year-round screening schedule that aims to integrate the concept of a film festival with commercial cinemas.
"Many cinemas are interested in joining the circuit – we hope to increase it to around 500 screens," Sun told Screen. First titles, screening schedules and venues should be announced in the next few weeks.
Increase diversity
The moves are part of a long-gestating initiative by the Chinese government to increase diversity in the China film market, which is dominated by mainstream Hollywood and Chinese titles, but has seen growth rates decline substantially over the summer. It also follows intensive lobbying by local filmmakers and industry professionals.
Currently, all foreign films in China are distributed by China Film Group or Huaxia Film Distribution, either as one of the 34 annual revenue-sharing imports or on a flat fee basis. The latter do not have a specified limit but usually number 20-30 per year.
CFA is expected to offer both revenue-sharing and flat fee arrangements, and is likely to work with Chinese distributors who will co-distribute and handle acquisitions and marketing. As with imports handled by China Film and Huaxia, all films will have to be first submitted to China Film Import and Export and then pass through censorship at the Film Bureau.
Usually, only films that are considered safe bets commercially make it through China's revenue-sharing quota system, so the CFA could potentially distribute films such as Oscar-winner The Revenant, which was imported into China earlier this year on a flat fee basis. However, no announcement has been made about the number of foreign arthouse films that will be imported.
Quota system
China is due to discuss its quota system as part of negotiations with the World Trade Organisation (WTO) in 2017. The current system of 34 revenue-sharing imports stems from a WTO agreement signed in February 2012.
Speaking at the launch of the National Arthouse Film Alliance, Zhang Hongsen, director of the State Administration of Press, Publications, Radio, Film and Television (SAPPRFT), said that after ten years of rapid growth, the China film market is now entering a period of "stratification and creative diversification" and warned local filmmakers that they would soon have to face greater competition from foreign films.
In addition to organising year-round specialist screening programmes, China Film Archive is also involved in programming the Beijing International Film Festival.