The Expendables and London Has Fallen producer has sold a majority stake to the owner of Aston Villa Football Club.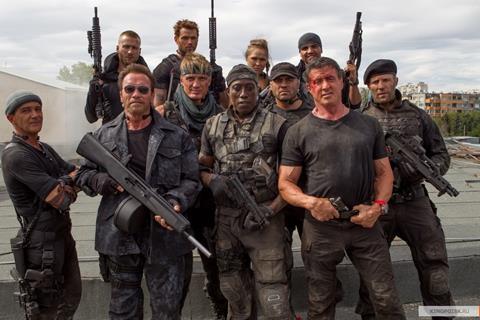 Chinese conglomerate Recon Holding has signed an agreement to acquire a 51% stake in indie production powerhouse Millennium Films for $100 million (RMB688m).
Listed in Shenzhen, the company is owned by Recon Group, headed by Tony Jiantong Xia, which also owns Aston Villa Football Club. Xia will serve as chairman of Millennium Films, with the company's founders Avi Lerner and Trevor Short as CEO and COO respectively.
The deal, which includes Millennium's nearly 300-title film library, also gives Recon Holding the option to acquire the remaining 49% shareholding in the company in the future.
Millennium is known for franchise properties such as The Expendables, The Mechanic, Olympus Has Fallen and London Has Fallen, which have all been decent hits in China.
The second and third installments in The Expendables series were co-financed by China's Le Vision Pictures, starting a trend for Chinese companies to finance US indie pictures rather than simply acquiring Chinese distribution rights.
At the recent European Film Market (EFM) in Berlin, China's Hishow Entertainment boarded Nu Image/Millennium Films' Hunter Killer, starring Gerard Butler and Gary Oldman, and Escobar, starring Javier Bardem and Penelope Cruz, as co-producer and Chinese distributor in a deal understood to be worth around $10m.
Recon Holding and Millennium said they expect the deal to close in the second quarter of 2017, but it comes at a tough time for Chinese acquisitions of US companies, with US President Donald Trump's protectionist rhetoric and the Chinese government clamping down on M&A activity due to concerns over capital flight.
Chinese authorities' curbs on cross-border activity are understood to have stalled, but not completely derailed, Dalian Wanda Group's $1bn purchase of Golden Globes producer Dick Clark Productions and Hehe Pictures' much smaller acquisition of arthouse distributor Fortissimo Films.
"We are excited about our new partnership with Recon Holding, led by Tony," said Lerner and Short in a statement. "China is emerging as the world's largest market for premium filmed entertainment, and we see enormous value in placing the Chinese market at the forefront of our global strategy."
Xia said: "We believe Millennium's unparalleled portfolio of motion picture franchises and intellectual property provides significant opportunities for long-term growth as the company continues to maximize the value of its creative properties across multiple platforms and in multiple territories."
Millennium productions have generated over $1.2bn (RMB8.2bn) in worldwide box office revenues since 2011. The company's upcoming slate also includes The Hitman's Bodyguard, starring Ryan Reynolds and Samuel L. Jackson.
Founded in 2001, Recon Holding was initially a manufacturer of wires and cables used in the electric power, transportation, airport and other industries; but has diversified into the production and distribution of filmed content, sports events and shows.