Held at the UK Film Centre, the panel discussed the issues facing films looking for co-production with China.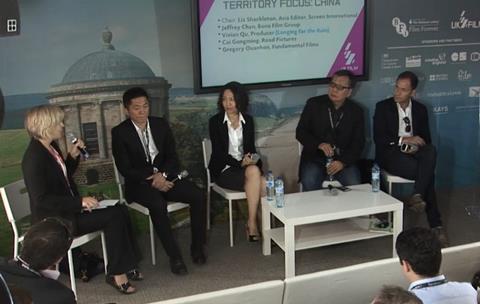 Tapping into the Chinese film market is not easy, was the overriding message at the Chinese co-production panel held today [May 17] at the UK Film Centre in Cannes.
Jeffrey Chan from Bona Film Group said the major challenge is finding stories that work in both China and the West.
"You have to find the right project to appeal to multiple countries, that also targets the Chinese market. For distributors, it's easier to focus on the Chinese market as you don't have to work out so many differences," said Chan.
He also explained that fulfilling China's co-production regulations is more difficult now, stemming from a clamp down in 2012 when several films applied for co-production status without putting a strong enough focus on Chinese elements.
"The rules haven't necessarily changed, it's just that some of the projects seeking co-production were questionable - they want to make sure rules are followed."
The rules he refers to are simple – co-produced films must have a focus for Chinese audiences, whether it be locations, storyline or cast. And while Chinese funding is not an issue, and co-productions can bypass quotas, they must be relevant to Chinese audiences.
Road Pictures' Cai Gongming, who is currently producing an Italian-UK-Chinese production entitled Coffee, that tells a story in each of the three respective countries, said: "You must have a story that appeals to all countries. China is looking for good stories where there is less risk for both sides."
He also said China is interested in working with European skilled directors, DOPs and actors.
But Gregory Ouanhon from Fundamental Films said that both countries must collaborate together from the early development stages.
"It is difficult to find good writers in China, and good scripts are hard to find. We often work initially with American writers and then have Chinese writers adapt accordingly.
"But this is one example where it is important that foreign producers get involved early on with Chinese filmmakers who have an understanding of Chinese culture."
Another point made was the increasingly younger cinema audience, averaging 25-years-old, that drives box-office revenue with mainstream films including comedies and rom-coms.
In relation to these figures, most Chinese cinemas cater towards bigger Hollywood blockbuster-style films, along with China's own home-made comedies that are often churned around like cars in an auto-factory in order to make a quick profit.
Vivian Qu defied these figures, however, with her Golden Bear winner Black Coal, Thin Ice, which grossed $16m – a figure that astonished many Chinese distributors.
"The structure of independent film and funding has changed in the last ten years. In the 1990s, most funding came from European companies with some Chinese investment. Now we mostly rely on Chinese money to fund films, and with the censorship issue, it is becoming increasingly more difficult," Qu said.
"But art-house does have a market in China – there are still some older people that go to the cinema. You just have to find a hook – for me, it was using the phrase 'film noir'."
VOD platforms were also mentioned, but with a slightly apprehensive view. Gregory Ouanhon explained prices peaked too early, and revenue expectations are not currently being met.
But Cai Gongming outlined that China has the largest online population - and though they were not prepared to pay for online content several years ago, he believes they are now.
The question that met the most laughs, and unfortunately perhaps the most relevancy, was simple – "Do Chinese audiences know British films?"
Jeffrey Chan nervously confided: "You might need to ask the piraters. There is no specific data to tell us these types of figures, but we all know piracy is prevalent, and Chinese audiences therefore watch most international entertainment.
"So while it may not bring in revenue as such, it does help with awareness. What I can tell you is there are hundreds of versions of Love Actually in China."