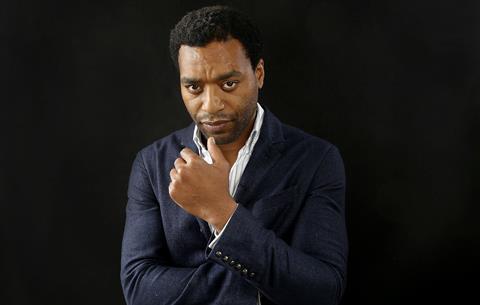 Production on the untitled directorial debut of Chiwetel Ejiofor has begun in Malawi.
Ejiofor will star in the project he also adapted from the book The Boy Who Harnessed the Wind, written by William Kamkwamba and Bryan Mealer.
Participant Media, BBC Films and BFI back the project.
Potboiler Productions' Andrea Calderwood (The Last King of Scotland) and Gail Egan (A Most Wanted Man) are producing the film. Participant's Jeff Skoll and Jonathan King will executive produce with BBC Films' Joe Oppenheimer, the BFI's Natascha Wharton and authors Kamkwamba and Mealer.
Cornerstone handles international sales.
12 Years A Slave star Ejiofor said: "William's story represents what has to be the future in countries like Malawi: developing countries, overflowing with beauty, and with potential which simply needs access to opportunity in order to be fully unleashed. William's determination and inventiveness created something that not only meant the end of the "hungry season" for his community, it also catapulted him into a future where all his potential could be realised.
"I want this to be a film that allows people to see that Malawi, and the world, will be all the better for everything William and those like him are able to contribute when they have the opportunities they urgently need to carve out their own extraordinary destinies."
Participant Media, BBC Films and BFI, with funds from the National Lottery, are lead financiers on the project, along with Head Gear, Econet and LipSync.
Participant will be handling the sale of North American distribution rights, while Cornerstone Films will oversee international sales and distribution in all other territories. Econet will handle Sub-Saharan African distribution.
The film follows 13-year-old William Kamkwamba (newcomer Maxwell Simba) who is thrown out of the school he loves when his family can no longer afford the fees.
Sneaking back into the school library, he finds a way, using the bones of the bicycle belonging to his father Trywell (Ejiofor), to build a windmill which then saves his village from famine. The emotional journey of a father and his exceptional son at its heart, William's tale captures the incredible determination of a boy whose inquisitive mind overcame every obstacle in his path.
In addition to Ejiofor and Simba, the cast features Lily Banda as William's older sister Annie; Noma Dumezweni (Hermione in Harry Potter and the Cursed Child) as Edith Sikelo, the librarian who helped bring William's story to public attention; Aissa Maiga (Anything for Alice) as William's mother Agnes; Joseph Marcell (The Fresh Prince of Bel-Air) as Chief Wimbe; and Lemogang Tsipa (Eye in the Sky) as teacher Mike Kachigunda.
The production leads of the film include cinematographer Dick Pope (Mr. Turner), production designer Tulé Peak (City of God), costume designer Bia Salgado (City of God) and editor Valerio Bonelli (Philomena).