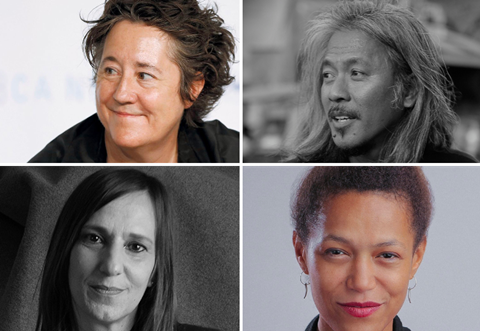 US producer Christine Vachon and Filipino filmmaker Lav Diaz are among the competition jury members for the 52nd edition of the International Film Festival Rotterdam (IFFR, January 25 – February 5).
Joining Vachon and Diaz is the director of Udine Far East Film Festival Sabrina Baracetti, Neptune Frost director Anisia Uzeyman and Mexican film critic Alonso Díaz de la Vega.
The jury are responsible for choosing the winner of the Tiger Award worth €40,000 as well as the Special Jury Awards worth €10,000. The competition line-up will be announced later this month.
India in the spotlight
IFFR has unveiled an India-focused programme entitled 'The Shape Of Things To Come?' which explores the socio-political development of India over the past 30 years The programme features three world premieres - Shahrukhkhan Chavada's Which Colour?; Ranjan Palit's A Knock On The Door; and Harshad Nalawade's Follower.
Mihir Fadnavis's documentary Lords Of Lockdown will have its European premeire at IFFR. It previously screened at the New York Indian Film Festival. It is about life in Mumbai during the first four months of the Covid-19 lockdown in 2020.
Also being showcased in the India focus is Teresa Braggs' All Was Good. The documentary, about the 2019-20 student protests, world premiered at Berlin earlier this year where it was nominated for the peace film and best documentary awards.
Harbour additions
A further seven titles have been announced for the Harbour line-up including two world and two international premieres.
Among them is The Long Voyage Of The Yellow Bus, a seven-hour documentary series from Brazilian filmmakers Júlio Bressane and Rodrigo Lima which reflects on the career of Bressane over the last six decades.
Sari Braithwaite's documentary Because We Have Each Other is one of the international premieres after it screened at the Melbourne International Film Festival. The film, from the Australian director, depicts the lives of a neurodiverse working-class family over the course of five years.
Valentin Merz's debut feature De Noche Los Gatos Son Pardos will also screen in the Harbour strand. The Swiss film, about a director going missing halfway through a film shoot, received a special mention in the first feature competition when it world premiered at Locarno.
The other new titles are Norbert Pfaffenbichler's 2551.02 – The Orgy Of The Damned; Boi Kwong's Geylang; Etienne Fourie's Stiekyt; and Friederike Pezold's Revolution Der Augen.
Hans-Christian Schmid's We Are Next Of Kin has also been added to the Limelight selection.
IFFR 2023
Focus: The Shape Of Things To Come? (first titles)
All Was Good (2022)
Dir. Teresa Braggs
Bajrangi Bhaijaan (2015)
Dir. Kabir Khan
Final Solution (2004)
Dir. Rakesh Sharma
Firaaq (2008)
Dir. Nandita Das
Follower (2023)
Dir. Harshad Nalawade
I Am Offended (2015)
Dir. Jaideep Varma
A Knock On The Door (2023)
Dir. Ranjan Palit
Lords Of Lockdown (2021)
Dir. Mihir Fadnavis
Love In The Time Of Malaria (1992)
Dir. Sanjiv Shah
The Men In The Tree (2002)
Dir. Lalit Vachani
Sameer (2017)
Dir. Dakxinumar Bajrange
The Kali Of Emergency (2016)
Dir. Ashish Avikunthak
Which Colour? (2023)
Dir. Shahrukhkhan Chavada