Other projects backed by June round of Nordisk Film & TV Fond include Liberty created by Asger Leth.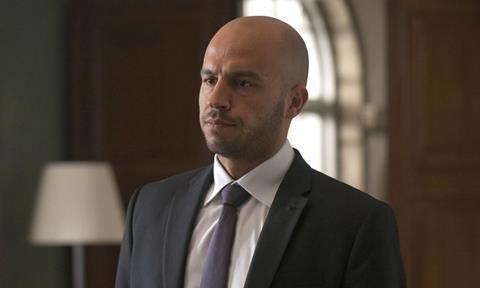 Danish director Christoffer Boe is lining up a hot cast for his new Danish crime TV series Warrior.
Dar Salim (A War, Game of Thrones, pictured) will play a former soldier and Danica Curcic plays the policewoman he loves, with the ensemble also including Lars Ranthe, Nicolas Bro, Søren Malling, Jacob Oftebro and Natalie Madueño.
Peter Bose and Jonas Allen of Miso Film produce the 6x48' series, which Boe co-wrote with Simon Paternak. The project just received $356,000 (NOK 3m) in funding in the latest round from the Nordisk Film & TV Fond.
It is produced for Denmark's TV2 with further funding from the Danish Film Institute. Shooting now, it will be delivered in autumn 2018 with FremantleMedia International handles sales.
It is described as "a modern-day character-driven crime drama about strong human bonds, loyalty and treachery among army veterans, gang members and police detectives."
In Cannes it was announced that Boe, who won the Cannes' Camera d'Or in 2003 with Reconstruction, will direct Zentropa's fourth and final instalment in the Jussi Adler-Olsen's Department Q thriller series, The Purity Of Vengeance. That film will start shooting in December.
More funding from Nordisk Film & TV Fond
Another hot TV project receiving funding (of $160,300) is Liberty, created by Asger Leth (Ghosts Of Cite Soleil), who is also head writer.
The new DR Drama show (5x58') is based on Jacob Ejersbo's book of the same name is about foreign aid emissaries whose idealism clash with cultural differences and local resistance.
Mikael Marcimain (Call Girl) directs and the series is now shooting in South Africa. DR1 will air in 2018 and DR Sales handles international rights.
Sofie Gråbøl (The Killing), Carsten Bjørnlund, Connie Nielsen, Anton Hjejle, Magnus Krepper and Kenyan presenter/actor Charles Karumi lead the cast.
The Nordisk Film & TV Fond has also granted $320,000 (NOK 2.7m) production support to Mans Mårlind and Bjorn Stein's feature film Swoon, a love story set against Stockholm's Grona Lund amusement park; Atmo Rights produces with Nordisk handling Scandinavian distribution and TrustNordisk handling world sales.
The Fond also granted $47,500 (NOK 400,000) for Hrafnhildur Gunnarsdottir's documentary The Vasulka Effect about video art pioneers Steina and Woody Vasulka.