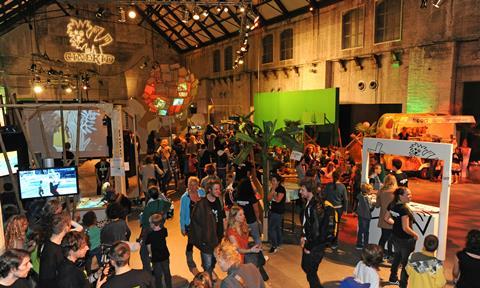 Cinekid Script LAB, the European initiative for the development of children's films, has picked 12 feature projects for its sixth edition, featuring more than 50% women across the selected teams.
The six-month script workshop will begin during the Cinekid for Professionals event in Amsterdam (Oct 21-25) and runs through to the Berlinale in February 2020.
A total of 10 of the 17 writers on the list are women, while nine of the 19 producers are female. There are no directors attached at this stage.
Alongside new talents, Cinekid welcomes back a few regulars, including Dorothée Van Den Berghe whose previous film Rosie & Moussa was selected for the first edition of the Cinekid script lab (2014-15) and then screened at CineKid 2018, winning the event's Golden Lion for Best Children's Films.
Also participating are Torfinn Iversen, whose previous feature Oskar's America screened at Cinekid 2017 in the Best Children's Film Competition, and Bragi Thor Hinriksson, director and writer of Cinekid 2018's The Falcons.
FULL SELECTION
Be Careful What You Wish For (Sw), wr. Malin Holm, Gustaf Åkerblom, prod. Lena Rehnberg, Johan Lundström (StellaNova Film), nom. Swedish Film Institute
The Bristol Job (Fr), wr. Carol Noble, prod. Margaux Doudin Marciano (Quad Films)
Don't Drink Our Blood (CR, Sl), wr. Lucie Bokšteflová, Tomáš Pavlíček, prod. Tomáš Michálek (MasterFilm s.r.o.), Jakub Mahler, Peter Badač (BFILM)
EIRA (Sw), wr. Nadine Nonn, prod. Julia Tal (2:1 Film GmbH)
The Hullabaloos (Fi), wr. Jenny Dahlström, prod. Melli Maikkula (Tack Films), nom. Finnish Film Foundation
iNanny (Li, No), wr. Arild Tryggestad, prod. Gabija Siurbyte (Dansu), Gary Cranner (Chezville)
Jump Out (Be, It, Cr), wr. Nika Šaravanja, prod. Iva Tkalec, Isabel de la Serna (Playtime Films), Sarah Pennacchi (Tico Films)
Lila In Kognita (Nl), wr. Saar Ponsioen, Emily Reekers, prod. Gijs Kerbosch, Max de Wolf (Halal Pictures)
Rood (Nl), wr. Camiel Schouwenaar, Job Tichelman, prod. Reinier Seelen (Rinkel Film), nom. Netherlands Film Fund
Tamar (Be), wr. Dorothée Van Den Berghe, prod. Bo De Group (Menuetto Film), nom. Flanders Audiovisual Fund
Uncle Egg - Searching For A Dad (No), wr. Torfinn Iversen, Julia Andersen, prod. Julia Andersen (Fjordic Film AS), nom. Norweigan Film Institue
Vera And The Third Stone (Ic), wr. Bragi Thor Hinriksson, prod. Bragi Thor Hinriksson (Hreyfimyndasmiðjan ehf), nom. Icelandic Film Centre