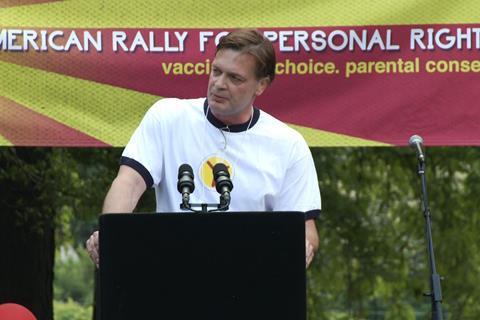 Cinema Libre has acquired international sales rights to Miranda Bailey's The Pathological Optimist
The company will be selling the film at MIPCOM to all territories, with the exception of the US and Canada. The Film Arcade released the film in the US in New York City and Los Angeles and is currently expanding across the country.
The Pathological Optimist centres on Dr. Andrew Wakefield, the man behind one of the most controversial, intensely debated topics in modern medicine – the anti-vaccination movement. An expat from Britain who currently resides in Austin, Texas, Wakefield allowed Bailey and her team to follow him and his family for five years beginning in 2011 as he fought a defamation battle in the courts against the British Medical Journal and journalist Brian Deer.
The Pathological Optimist is Bailey's follow-up to her debut documentary feature Greenlit, which premiered at SXSW in 2010. Bailey has produced more than 20 films, including the Oscar-nominated The Squid And The Whale and The Diary Of A Teenage Girl.
"Coming off the success of the Wakefield-directed documentary Vaxxed in the US, with over $1.2m in box office and sales to territories that include Italy, Germany, Japan, combined with direct distribution programmes in the UK, Ireland, France, Belgium, Luxembourg, The Netherlands, Australia/New Zealand as supported by activists, we feel confident that buyers will find The Pathological Optimist of great interest. Dr. Wakefield continues to be a media magnet and Miranda's film is such a compelling look into his life," Mohamed Ouasti, who handles International Sales for The Pathological Optimist and Vaxxed, and Cinema Libre Studio said.