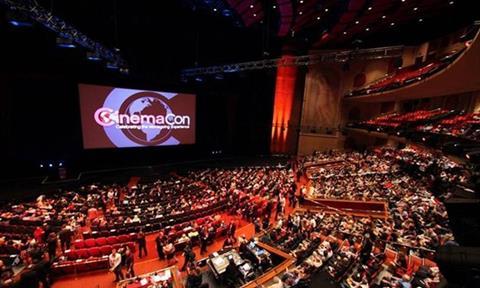 Entertainment Studios founder Byron Allen told CinemaCon attendees on Wednesday (April 25) that he would fight to defend the theatrical window.
Speaking during his company's inaugural slate presentation Allen, a businessman, TV producer, comedian and aspiring film mogul, used the platform at Caesars Palace to urge exhibitors to resist assaults on their traditional place at the table brought about by technological change.
"You are vey powerful," Allen said. "And there are people trying to take that power from you and don't you dare let them. They want your relationships. They're jealous of you. Remember who you are. You are the kings and queens."
Referring specifically to the exclusive theatrical window he added, "I don't like the conversations from the studios who want to reduce your window to less than 90 days that's unacceptable. I am here to fight for it and defend it. If anything, let's back 120 days. Let's go in the other direction."
He continued, "Maybe you should be part of all the revenues streams… There's nothing wrong with you being a part of everything, from not only box office but DVD, SVOD and TV. I would invest in research, development, content acquisition."
Allen's studio scored a hit last summer when 47 Meters Down – the shark film he acquired from Bob Weinstein after he learned the Hollywood executive was planning to bypass a theatrical release – grossed $44.3m in North America.
Allen paid Weinstein a $3m MG for the thriller. Some time later he received a call from Weinstein telling him that unless he wired the money within 30 minutes, trucks loaded with DVD's of the film would set off for Walmart before any theatrical release could take place. Allen says he transferred the money in the nick of time.
Entertainment Studios is about to go into production on the sequel 48 Meters Down this summer, marking the company's first production after it acquired rights from The Fyzz Facility.
Allen's company is moving more aggressively into the business after several statement buys around the time of the Toronto International Film Festival last year. The company picked up Keanu Reeves sci-fi thriller Replicas sight unseen immediately before the festival, as well as festival selections Chappaquiddick (which opened earlier this month), and closed a deal for Christian Bale western Hostiles last October.