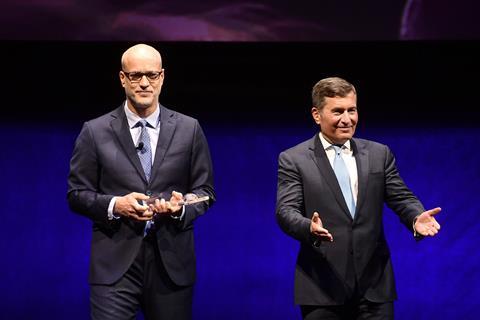 Motion Picture Association Of America (MPAA) chief Charles Rivkin said the body was stronger with Netflix on board in a wide-ranging press conference at CinemaCon on Tuesday (2).
The streaming platform dominated questions in the initial portion of the session at Caesars Palace. Unlike its partner members who report daily box office on their theatrical releases, Netflix is the only member that does not report verifiable statistics for individual film viewership. Rivkin (pictured at right) said the streamer joined the MPAA after a unanimous 6-0 vote.
National Association Of Theatre Owners (NATO) president John Fithian (pictured at left) declined to comment on whether he thought Netflix would orchestrate a theatrical release this year for Martin Scorsese's The Irishman, adding that a trade body cannot comment on such matters and that theatrical releases were up to distributors and exhibitors.
However he did have this to say: "We think the more streaming services there are, the more content is coming to theatres… because multiple outlets have your product, which means more financiers can make product."
Rivkin referred to ongoing talks between the USTR (United States Trade Representative) and China over a new film agreement, and agreed with the suggestion that, as a new member of the organisation, the streaming giant could in theory benefit from its membership of the MPAA.
No foreign company is allowed to directly distribute in China. However they can establish an office and work on the marketing of theatrical releases alongside China Film or Huaxia, the companies that handle revenue-sharing imports. Were Netflix to orchestrate a theatrical release on one of its films in the US, that film might be eligible for theatrical release in China through a local partner. Netflix is blocked by China from operating its global streaming platform in the territory.
Screen understands one of the underlying goals of US negotiators is to secure a greater share of revenue from releases in China.
When pressed on Hollywood's stance on Saudi Arabia in the wake of the assassination last year of Saudi journalist Jamal Khashoggi, Fithian said trade bodies did not form foreign policy. The first public theatre in more than three decades opened in the kingdom last year backed by AMC Entertainment, and US and international exhibitors have significant investment plans for the region.
On a personal note he said, "This is a country in transition, a country with a very different perspective from Americans and a country that had very few liberties for decades… I am proud of the fact that we are continuing to [build] in Saudi Arabia and bring free speech to that country."
Addressing the subject of windows, Fithian corrected what he said was an oft-repeated statement in the press that in North America the theatrical window was fixed at 90 days. He said it ranged from 70 to 120 days and depended on many elements including a film's genre and box office success.