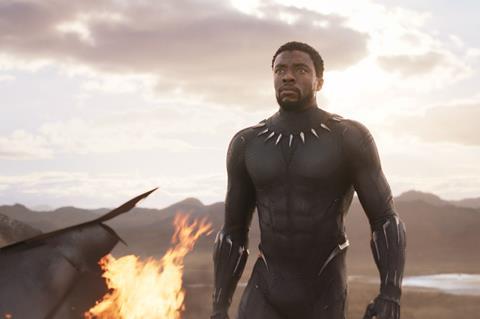 The number of theatres in Saudi Arabia could rise from one operational site today to between 100 and 150 within five years, according to AMC Entertainment CEO and president Adam Aron.
The growth rate is quicker than previously reported and is based on Aron's talks with Saudi authorities that led the executive to believe that theatre count could reach 300 within a decade, comprising some 3,000 screens.
Aron, speaking at a CinemaCon panel on Monday (April 23) dedicated to the nascent Saudi film business, said a $1bn annual box office number being touted around was "aspirational" and suggested $500m to $1bn in the early years might be more realistic.
Last week (April 18) AMC Theatres became the first exhibitor to open and operate a theatre in the kingdom in 37 years when it debuted to the local public with a historic screening of Black Panther.
Ahmed Ismail, CEO of Vox parent company Majid Al Futtaim Ventures, is about to open the country's second theatre any day now, and when pushed by Aron said, "I would be disappointed if we don't have at least 100 screens by the end of 2019."
Screendaily understands from exhibition sources that iPic Entertainment is expected to open its first site soon – possibly later this year – after striking a previously announced partnership with Saudi-based BAS Global Investments Company.
In a wide-ranging conversation moderated by National Association Of Theatre Owners president and CEO John Fithian, panelists spoke about pricing, censorship, the types of films likely to enter the market, and how the Saudis would approach the sensitive subject of gender segregation.
The opening of the Saudi market has been driven by 32-year-old Crown Prince Mohammed bin Salman's progressive Vision 2030 policy, designed to move his country of some 30million people away from dependency on finite oil supplies towards other economies.
Ismail noted how the predominantly young Saudis population spends $30bn a year on travel, leisure and entertainment. "That's a $30bn leakage, so from pure economics it makes sense to capture that."
On ticket pricing, Aron said the opening ticket price for the first three shows of Black Panther in his Riyadh site was 75 riyal or the equivalent of $20 "in change". The executive made it clear that would change.
"It's too low. I'm sure we put our new seats in by the summer, I bet you we will be closer to $30-35 including tax," Aron speculated, adding that there was so much "pent-up" demand for cinema-going in the capital city of seven million that when AMC made tickets available for the first show of Black Panther they sold out in 15 minutes.
So far AMC has only made tickets available on the day of the show. On the second day, Aron said tickets sold out in 45 seconds.
After Ismail opined that the country's 25% entertainment tax (plus VAT) would help fund industry growth, Andrew Cripps, president of theatrical distribution at Fox International, expressed concern and said high levies would force ticket prices to rise. Duncan Clark, president of distribution at Universal Pictures International, said he believed pricing would settle in the "right place" over time.
While there was consensus on the need to educate the local industry on matters such as piracy – Aron recalled how audience members at the first Black Panther screening took photos of the screen – the uniqueness of the Saudi situation was emphasised time and again during the session.
"We have seen markets open up like Indonesia but here we have an opportunity to develop a new industry literally from scratch," Cripps said, adding that Hollywood had the chance to access a new market, tap into local talent, and possibly use Saudi locations in films.
Aaron reported that local authorities have finalised a ratings system comprising six bands and two ratings for 12-year-olds (R 12 and PG 12). Now comes the question of how they will be implemented and what form the censorship process will take.
Clark said the stumbling blocks for content creators based on his experience of Middle East markets were likely to be strong language, violence and nudity.
Aaron noted that only 40 seconds had been edited out of the version of Black Panther that premiered in Saudi Arabia recently. The film is two hours and 15 minutes long. He added that censors have already signed off on Warner Bros' current international box office champion Rampage, and Disney submitted Avengers: Infinity War last week.
"They're going to be conservative at the beginning and liberalise as they go, because they don't want to make mistakes," Aron said.
The jury was also out on how the Saudis would deal with traditional gender segregation. Authorities are lifting the ban on women drivers on June 1, however the panel heard that it is still commonplace for men and women to use separate entrances at restaurants and occasionally shopping centres. The AMC chief noted that men and women have been sitting next to each other for the Black Panther shows.
Cripps said while family, animation and generally wholesome storytelling were likely to play in Saudi Arabia, "R-rated content will struggle, certainly at the outset." Fox's chose to submit its first film, the animation Ferdinand, because the studio believed it was unlikely to offend local censors.