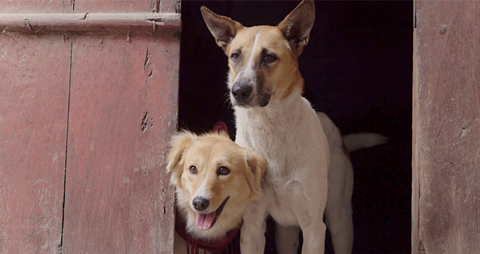 Cinestaan Film Company is teaming with UK-based Newscope Films to produce India's first live-action all-animal family feature, Aasha The Street Dog (working title).
Directed by Frederik Du Chau and filmed by an international crew, the film tells the story of a plucky, three-legged dog who comes to realise she can change her world. Set on the streets of Delhi, the family adventure has a cast comprising dogs, pigs, camels, goats, a cow and a street kid.
Belgium-born Du Chau is an expert in live-action animal films with credits including Alcon Entertainment's Racing Stripes and Disney's Underdog. "We are making this movie on the streets of Delhi and by the time we finish it will be fun, exciting and extremely magical," said Du Chau.
The film is being shot in English, but as the animals' mouths don't move, it has the potential to be dubbed into any language. "Frederick has worked on lots of animal films, but with Aasha The Street Dog, he wanted to leave room for the dogs to improvise, and this provides much of the humour in the film," said Cinestaan director of international operations, Deborah Sathe.
Currently in production in Delhi, the film is being scheduled for delivery in spring 2019.
In addition, Cinestaan has appointed Paul Hudson as director of sales at its international sales arm, C International Sales. Based in LA, Hudson will broaden the company's remit to represent films with no Indian connection. In a first move in this direction, the company has boarded Pawel Pawlikowski's Cannes competition title Cold War as an investor.
C International Sales is also showing new footage of Gitanjali Rao's hand-painted animation Bombay Rose and recently picked up BIFA-nominated human rights documentary Even When I Fall.