EXCLUSIVE: Naseeruddin Shah and Tisca Chopra head the cast of UK-India co-production, which is a contemporary adaptation of Shakespeare's Titus Andronicus.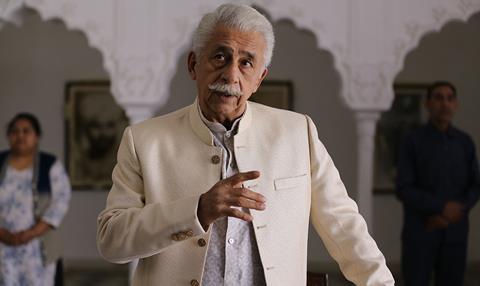 Production has started on Cinestaan Film Company and Film London's Shakespeare adaptation The Hungry, with a cast including Naseeruddin Shah and Tisca Chopra.
Written and directed by Bornila Chatterjee, the UK-India co-production is a contemporary retelling of Shakespeare's Titus Andronicus, with the play's themes of corruption, greed and revenge updated for a global audience.
Shah is known to international audiences for his roles in Monsoon Wedding and The League Of Extraordinary Gentlemen, while Chopra previously starred in Toronto title Qissa: The Tale Of A Lonely Ghost.
The cast also includes Arjun Gupta (Nurse Jackie), Neeraj Kabi (Viceroy's House), Sayani Gupta (Margarita With A Straw) and Antonio Aakeel (City Of Tiny Lights).
Co-written and produced by Tanaji Dasgupta and Kurban Kassam, the revenge thriller was developed using Film London's Microwave scheme as its model, with the filmmakers undergoing a rigorous selection and training programme funded by the British Council.
The production is financed 50:50 by Cinestaan and an SEIS scheme run by Bob & Co, with investment from executive producers Declan Reddington, Orion Lee of Constellation Creatives and Ben Bond of Bad Owl Films, the newly formed features arm of Hoot Entertainment.
Hoot will also run social media and marketing for the film. Twickenham Studios will be delivering full post-production services.
Cinestaan chairman Rohit Khattar said: "To partner with Film London for a film celebrating 400 years of Shakespeare is extremely exciting. It is a testament to both the script and the production that our film The Hungry has managed to attract such a great cast and crew for our adaptation of a Shakespeare classic."
Film London chief executive Adrian Wootton said: "We couldn't be more excited that The Hungry has started shooting. The film has brought together talent from India and the UK, and the team have honed a genuinely exciting script that puts a wonderfully contemporary spin on Shakespeare's Titus Andronicus, and the stellar cast we've secured is sure to do our first international co-production project justice."