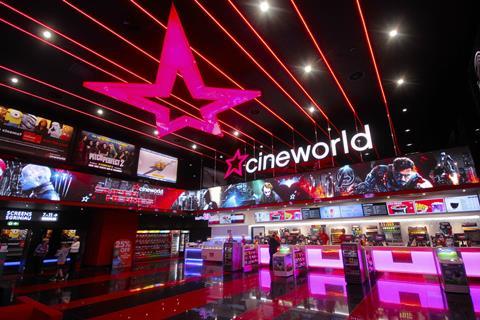 UK-based exhibitor Cineworld Group is preparing to file for bankruptcy, according to a report in the Wall Street Journal.
The report claims Cineworld is expected to file a chapter 11 petition in the US and is considering insolvency proceedings in the UK.
It is reported that the company, the world's second-largest exhibitor, has hired lawyers from Kirkland & Ellis LLP and consultants from AlixPartners to advise on the process.
Cineworld shares fell around 60% following the report.
Earlier this week Cineworld released a statement advising that admissions had been "below expectations" since it reopened in 2021 following the Covid-19 pandemic, and that a lack of major releases until November 2022 is "expected to negatively impact trading and the Group's liquidity position in the near term".
The statement added that Cineworld was looking for fresh sources of liquidity and could potentially restructure its balance sheet.
Cineworld's debt was at $4.84bn in March and the company is facing a massive fine in its ongoing dispute with Canada's Cineplex, following the abandoned takeover of the company by Cineworld in mid-2020.
Cineworld owns Regal theatres in the US, which it acquired for $3.6bn in 2017, as well as Cineworld and Picturehouse Cinemas in the UK, with operations in 10 countries such as Poland and Israel, and 9,189 screens across more than 750 sites.
Philippa Childs, Head of Bectu, said in a statement: "This is very worrying news, not least for the UK's Cineworld and Picturehouse workforce who have already been through a tumultuous time during the pandemic. The UK's cinema industry suffered an incredible blow due to Covid-19 and this latest news will be very unsettling for cinema workers.
"We will do everything we can to support our members during this challenging time and will be looking to Cineworld to mitigate the impact of any bankruptcy arrangements on its employees."
Screen has contacted Cineworld for comment.