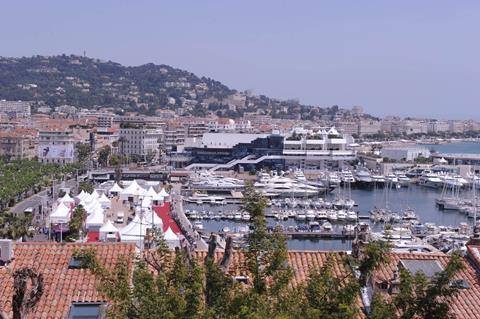 The city of Cannes is hoping to kickstart its trade show and conference activities this autumn, following their abrupt shutdown in March with the cancellation of MIPTV due to the Covid-19 pandemic.
Cannes mayor David Lisnard said the city would plough $1.6m (€1.5m) into relaunching the events sector as part of a plan to revive the city's stalled economy, in a presentation on Monday (May 18).
Part of the strategy will involve a massive poster campaign in capitals across Europe, including Paris, London, Barcelona and Amsterdam, promoting Cannes as an events destination.
Lisnard said the city had also created a health label signalling certain hygiene protocols had been respected to reassure partners and attendees. It also plans to set-up a special unit to study how large-scale professional events can be reimagined to fit the Covid-19 era.
In an information pack produced to accompany the presentation, a number of events due to take place this autumn were announced as being maintained for now, including the Yachting Festival Cannes (Sept 8-13), Mipcom (Oct 12-15), LeisurUp (Nov 16-17), a new event aimed at the leisure industry, and retail property fair Mapic (Nov 17-19).
The events business is a key component of the city's economy alongside mainstream tourism in the summer.
Lisnard revealed the cancellation of Cannes Film Festival and the physical edition of its Marché du Film as well as events including MIPTV, real estate show MIPIM and Cannes Lions Festival of Creativity will have left a $540m (€500m) hole in the city's economy by end-June.
"With hotels shut and restaurants and beaches not running at full capacity we estimate some €500m worth of losses," he said.
On a year on year basis, the city is bracing itself for a $1.3bn (€1.2bn) drop in tourism-related income in 2020 compared to 2019. This figure is based on the hypothesis business will pick up in July but could be worse if tourists stay away.
Lisnard also announced a wide $11m package of measures aimed at supporting local shops and businesses, most of which have been shut since March 17 when France went into a national lockdown. They range from emergency funds and loans to cancelling rates and taxes as well as concession fees for beachfront kiosks and restaurants and freezing rents.
A total of 28,239 people had officially died of Covid-19 in France as of May 18, with at least 824 deaths in the Provence-Alpes-Côte d'Azur (PACA) region where Cannes is situated.
France began easing it lockdown on May 11, enabling Cannes to reopen its beaches on Saturday (May 16) on what would have been the first weekend of the Cannes Film Festival. Restrictions remain in place, however, with access open only to walkers and people practicing water sports such as swimming. No sunbathing is allowed yet.
Bars, restaurants and non-essential shops remain closed for the time being. The French government is due to announce whether the lockdown can ease further on June 2.
A key plank of Lisnard's strategy to keep the city's economy afloat over the summer involves replacing its absent international clientele with French holidaymakers who are being encouraged to take staycations this year rather than travel abroad. The city is offering special package deals and has also just launched a $3.6m advertising campaign aimed at the French market.
As part of this strategy, the city has also devised a programme of open-air events which include a drive-in cinema on Palm Beach, a photography exhibition on the Croisette and light shows on the facades of buildings such as the Palais des Festivals and the town hall. There are also plans to transform the rooftop terrace of the Palais des Festivals into a night-time music venue.
Looking to the autumn, the final decision on whether the city can fire up its events business again will rest ultimately with the French government which has extended a ban on events gathering more than 5,000 people at least until September.