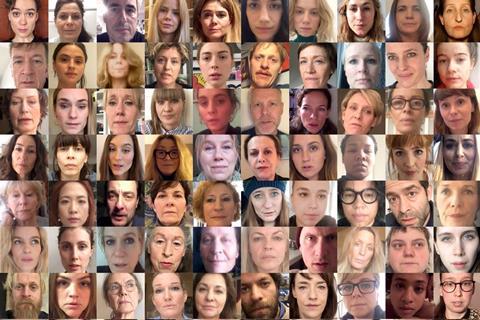 One hundred Danish actors including Claes Bang (The Square), Danica Curcic (Silent Heart), Jesper Christensen (Casino Royale), Ghita Nørby (Babette's Feast), Victoria Carmen Sonne (Holiday), and Mikkel Boe Følsgaard (A Royal Affair) have contributed to a Danish project presenting everyday people's #MeToo stories.
Copenhagen-based production company Meta Film has launched the website dkmetoo.dk, where its 'mosaic' of 100 videos related to #MeToo can be streamed.
The videos – nearly all under 2 minutes each – will also be screened tonight (Friday) at the Scandinavian Terrace (55 La Croisette).
The producers are Mette Bjerregaard and Meta Louise Foldager Sørensen for Meta Film Doc.
The producers hope the project will "extend the debate from the film industry into broader society".
The project has recruited 100 actresses and actors to interpret #MeToo experiences gathered from 100 Danes from all walks of life including a parking warden, a professor, a cleaner, a young sports talent, a psychologist and an asylum seeker.
The stories of sexual harassment or violation are mostly women violated by men, but also include "cases where a man is violated by another man or woman, or where a woman violates another woman," said the producers.
The accounts of sexual harassment were collected through 10 Danish trade unions, from the book 'Sexual harassment At Work' by Anette Borchorst and Lise Rolandsen Augustin, through LOKK, a nationwide organisation of women's shelters in Denmark, the Everyday Sexism Project and the Danish Women´s Society as well as through an open call.
The website, which has English subtitles on the videos, also contains educational material that can be used in classrooms.
"We hope the mosaic will push the debate out to the rest of society," said Meta Louise Foldager Sørensen. "We hope people will se the big picture. We hope skeptics can lose their preconceived notions. We hope many will see these films. And understand the big picture. We are proud that the films will reach 90% of all schools in Denmark, because it's the future generations that will ultimately forge the relations between the genders."