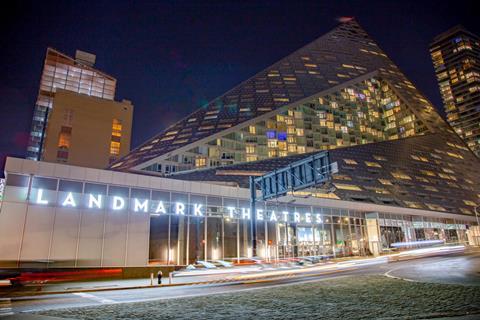 Cohen Media Group has acquired Landmark Theatres from Wagner/Cuban Companies, ending months of speculation over who would take over the specialised theatre chain, which at one time had Amazon.com reportedly in the running.
Landmark Theatres is the largest specialised theatre chain in the US dedicated to independent cinema and comprises 252 screens in 27 markets.
Cohen Media Group chairman Charles S. Cohen will retain the senior management team of Landmark Theatres, and Todd Wagner and Mark Cuban of 2929 Entertainment, which acquired the chain from Oaktree Capital in 2003, said they envisioned "little to no impact on our staff or customers." Terms of the sale were not disclosed.
Landmark is renowned for its independent, documentary and foreign-language programming and key sites include The Landmark in Los Angeles and The Landmark at 57 West in New York City (pictured), the E Street Cinema and The Landmark Atlantic Plumbing Cinema in Washington DC, The Landmark at Merrick Park in Coral Gables, Florida, and The Landmark at Greenwood Village in Denver's flourishing Tech Center. Landmark was the first chain to instal couches and love seats in its theatres, and the first to employ DCP digital projectors.
"Anyone who knows Charles, knows he is an avid lover of art and cinema, and this deal to purchase Landmark serves so many of his true passions and interests," Landmark Theatres president and CEO Ted Mundorff. "By acquiring our chain, he has supercharged and scaled his distribution footprint in the arthouse sector, where he has been a savvy distributor and producer for many, many years. He has also acquired the crown jewel in the arthouse exhibition arena with prime A-list locations and an established loyal base of customers who love our theaters, brand and diverse range of extraordinary, high-quality programming choices throughout the year."
"I have been in the arthouse business for a long time as both a distributor and a producer, and I know better than most, that these films need a special home and require the utmost care," said Cohen. "Landmark is that home. I have long admired and respected the way Landmark has built and grown its business from the ground up and I love this area of the business."
"As the independent market has changed over the years, Ted and the entire Landmark team have done an outstanding job adjusting with the times, anticipating trends and opportunities and new areas for growth and exploration. I couldn't be more excited to add Landmark to Cohen Media Group's portfolio of companies. This is a phenomenal fit with our other businesses, and this deal will be welcome news to the filmmakers we do business with or plan to work with in the arthouse arena in the years ahead."
"We are thrilled that we are passing the baton to Charles, a buyer who is passionate about independent cinema and who truly understands this market," said Wagner and Cuban. "As we complete our sale, we expect the transition between owners to be smooth and seamless with little to no impact on our staff or customers."
Investment banker Stephens Inc. served as exclusive financial advisor to Landmark in the transaction.