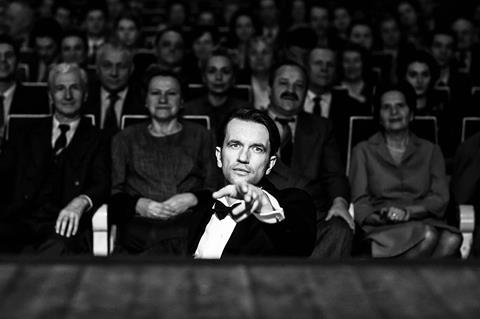 After winning best birector at Cannes Film Festival, Pawel Pawlikowski's melodrama about love and modern European history leads the European Film Awards (EFA) nominations with five nods including for European film, director, actress (for Joanna Kulig), actor (for Tomasz Kot) and screenwriter (for Pawlikowski).
Cold War was followed closely by Dogman, Border and Happy As Lazzaro with four EFA nominations each. The latter three joined Cold War in being nominated for European film, director (Ali Abbasi for Border, Matteo Garrone for Dogman and Alice Rohrwacher for Happy As Lazzaro) and screenwriter.
Like Pawlikowski, Rohrwacher was nominated on her own for Lazzaro's screenplay, whereas Abbasi and Garrone were nominated alongside their co-writers.
Lukas Dhont's Girl and Gustav Moller's The Guilty each received three nominations. Both are up for the European Discovery award, alongside Berlin Golden Bear winner Touch Me Not, Scary Mother, One Day and Those Who Are Fine.
In the European actor and actress categories, those recognised for their performances alongside the two stars of Cold War include Marcello Fonte for Dogman, Eva Melander for Border, Halldora Geirhardsdottir for Woman At War, Victor Polster for Girl, Sverrir Gudnason for Borg/McEnroe and Rupert Everett for The Happy Prince.
Following the announcement at the Seville European Film Festival, more than 3,500 EFA members will now vote for the winners. The awards will be handed out at the 31st European Film Awards in Seville on December 15.
As previously announced, Ralph Fiennes will receive the European Achievement in World Cinema award honouring his career as an actor and director. The Lifetime Achievement Award will go to Spanish actress Carmen Maura. She was the first actress to receive a best actress award in the first gala organised by the European Film Academy back in 1988, winning for Pedro Almodóvar's Women On The Verge Of A Nervous Breakdown.
The full list of 2018 EFA nominations is here:
EUROPEAN FILM
Border (Sweden, Denmark)
Cold War (Poland, UK, France)
Dogman (Italy, France)
Girl (Belgium, Netherlands)
Happy As Lazzaro (Italy, France, Germany, Switzerland)
EUROPEAN COMEDY
C'Est La Vie (France)
Diamantino (Portugal, France, Brazil)
The Death Of Stalin (France, UK, Belgium)
EUROPEAN DISCOVERY - PRIX FIPRESCI
Girl (Belgium, Netherlands)
One Day (Hungary)
Scary Mother (Georgia, Estonia)
The Guilty (Denmark)
Those Who Are Fine (Switzerland)
Touch Me Not (Romania, Germany, Czech Republic, Bulgaria, France)
EUROPEAN DOCUMENTARY
A Woman Captured (Hungary, Germany)
Bergman – A Year In A Life (Sweden, Germany)
Of Fathers And Sons (Germany, Syria, Lebanon, Qatar)
The Distant Barking Of Dogs (Denmark, Finland, Sweden)
The Silence Of Others (Spain, US)
EUROPEAN ANIMATED FEATURE
Another Day Of Life (Poland, Spain, Belgium, Hungary, Germany)
Early Man (UK)
The Breadwinner (Ireland, Canada, Luxembourg)
White Fang (France, Luxembourg)
EUROPEAN DIRECTOR
Ali Abbasi, Border
Pawel Pawlikowski, Cold War
Matteo Garrone, Dogman
Samuel Maoz, Foxtrot
Alice Rorhwacher, Happy As Lazzaro
EUROPEAN ACTRESS
Eva Melander, Border
Joanna Kulig, Cold War
Marie Baumer, 3 Days In Quiberon
Barbara Lennie, Petra
Alba Rorhwacher, Happy As Lazzaro
Halldora Geirhardsdottir, Woman At War
EUROPEAN ACTOR
Sverrir Gudnason, Borg/McEnroe
Tomasz Kot, Cold War
Marcello Fonte, Dogman
Victor Polster, Girl
Jakob Cedergren, The Guilty
Rupert Everett, The Happy Prince
EUROPEAN SCREENWRITER
Ali Abbasi, Isabelle Eklof & John Ajvide Lindqvist, Border
Pawel Pawlikowski, Cold War
Matteo Garrone, Ugo Chiti & Massimo Gaudioso, Dogman
Alice Rorhwacher, Happy As Lazzaro
Gustav Moller & Emil Nygaard Albertsen, The Guilty
EUROPEAN SHORT FILM
Aquaparque (Portugal)
Burkina Brandenburg Komplex (Germany)
Graduation '97 (Ukraine)
I Signed The Petition (UK, Germany, Switzerland)
Kapitalistis (Belgium, France)
Kontener (Germany)
Meryem (Netherlands)
Prisoner Of Society (Georgia, Latvia)
Release The Dogs (France, Belgium)
Shame (Bulgaria)
The Escape (France)
The Years (Italy, France)
Those Who Desire (Switzerland, Spain)
What's The Damage (UK)
Wildebeest (Belgium)