Oscar winner accepts challenge at San Diego convention.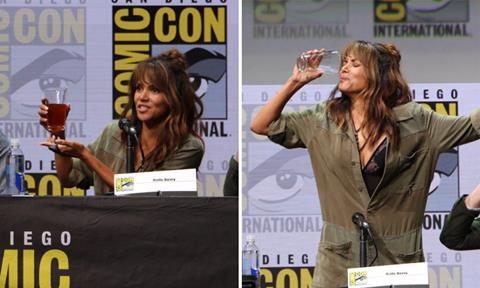 Halle Berry appeared to drink a large glass of whiskey in one go at Thursday morning's Comic-Con panel for Fox's Kingsman: The Golden Circle.
The Oscar winner, who plays logistics officer Ginger Ale at Kingsman's US sister operation Statesman in the upcoming action sequel, accepted a dare rather than answer an audience question about whether Kingsman or James Bond represented the definitive British spy.
Earlier cast members had poured small glasses of a dark liquid in recognition of the fictitious liquor business that serves as a front for Statesman's operation.
When panel host Jonathan Ross urged her to "chug it", Berry downed her glass of liquid in one gulp and theatrically fell off her seat on stage. As the panel wore on she got laughs for looking increasingly bamboozled.
Colin Firth, Taron Egerton, Channing Tatum, and Jeff Bridges were among the talent on show at Hall H stage to talk up the film.
Matthew Vaughn introduced the opening sequence from London, where he is in the final stages of editing. The footage showed Egerton in the lead role as Eggsy eluding would-be assassin and failed Kingsman applicant Charlie in a high-speed cab chase through London.
Joining the aforementioned stars on stage were Pedro Pascal, screenwriter Jane Goldman, and comic book co-creator Dave Gibbons.
"I seem to do a lot of shaving but that's really all I can say," Firth, who reprises his role as dapper senior spy Harry Hart, said of his performance. He later added: "To make the tiniest reference to anything I do feels like a spoiler… I had a slightly different task this time," and referenced "minorly life-changing injuries."
Bridges plays Agent Champagne, who runs the distillery business in the film, and downed his glass when asked how The Dude [from The Big Lebowski] might fit into the Kinsgman world. "He probably wouldn't make bourbon… he'd probably go vodka. I like my Russians clear.
Goldman noted one of the challenges was to create a villain on a par with Samuel Jackson from the original. "We were incredibly lucky to get Julianne Moore," she said. Ross introduced a final slice of footage of Moore as the sadistic Poppy initiating a gangster into the fold by forcing him to feed a man into a meat mincer.
Kingsman: The Golden Circle opens through Fox on September 22. 2015 original Kingsman: The Secret Service grossed $414.4m worldwide – $286.1m from international and $128.3m from North America.