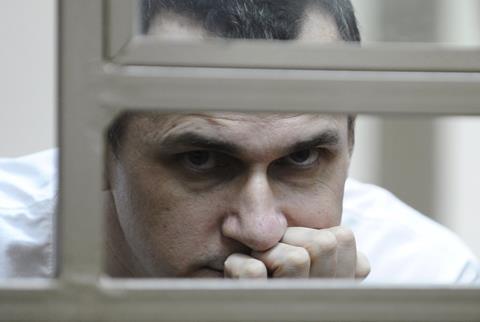 Concerns are growing for Ukrainian director Oleg Sentsov as his hunger strike protesting his imprisonment and that of another 64 Ukrainian political prisoners in Russia enters its second month.
The filmmaker has been on hunger strike since May 14 and has said he will only start eating again if he and all the Ukrainian political prisoners are released.
"We know he is being checked in a civilian hospital. But it is [at] around 30 days, the point at which he is currently, that the risks increase significantly," said producer and European Film Academy deputy chairman Mike Downey, who is campaigning to keep Sentsov's plight in the spotlight.
"Around this point he will have lost between 18 and 20 percent of his body weight, meaning he should be hospitalised but we don't know what the Russian authorities are planning. Russian law permits force-feeding of strikers whose lives are in danger… but after around 50 days the risks become acute even with force-feeding."
Sentsov's lawyer Dmitry Dinze told French news agency AFP over the weekend that Sentsov had lost eight kilos so far and had agreed to be put on a glucose drip but had been told by doctors that "irreversible consequences" of his hunger strike would soon kick in.
The director was originally arrested in his home in the Crimea by Russian security forces in May 2014, shortly after Russian annexed the region from Ukraine earlier that year. He was then sentenced by a military court in 2015 to a 20-year prison sentence on terrorism charges he strongly refutes.
Sentsov is among some 70 political prisoners caught up in the conflict between Russia and Ukraine over the contested region of Crimea.
World Cup appeals
Calls for Russia to release the director and the other Ukrainian political prisoners have been multiplying on the eve of the World Cup kick-off in Moscow on Thursday (June 14).
The UK's The Guardian newspaper reported on Sunday that Sentsov's family had appealed directly to Russian President Vladimir Putin to set the filmmaker free ahead of the World Cup.
His cousin Natalia Kaplan told the newspaper Sentsov had said he would "carry his hunger strike to the end".
"Oleg is the kind of person who doesn't go back on his word," she said.
Downey seconded these comments.
"The only way that this can be resolved will be through an act of clemency from the Russian president," he said. "But Oleg has been clear this must be an act that includes all Ukrainian political prisoners, not just him – and it is this that limits my expectations."
"My feeling is the international film community should re-double its efforts to draw attention to his case, the European Film Academy and its board are at present informing journalists throughout the countries of our membership as well as making sure that at ministerial level interventions are made."
Prisoner swap rumours
In another development, Putin hinted to reporters at an economic summit in Qingdao, China over the weekend that back-channel talks were taking place for a potential prisoner exchange between Russia and Ukraine ahead of the World Cup but did not give further details.
His comments followed a statement by Ukrainian President Petro Poroshenko he had spoken with Putin by phone about the issue of Ukrainian citizens being held in Russia, and specifically those on hunger strike.
Sentsov's plight was also discussed at the G7 summit in Quebec last week, said Downey, following an intervention by European Council President Donald Tusk, which was then publicly endorsed French Culture Minister Françoise Nyssen.
"After the interventions at the highest level by Donald Tusk, the subject was discussed on the G7 Foreign Ministers' agenda. Lobbying continues with appeals to a number of heads of state including Emmanuel Macron, Justin Trudeau and, as we understand, reaching as far as the Pope," said Downey.
In the backdrop, a European Film Academy open letter and petition calling for Sentsov's release, supported by filmmakers, producers and film institutions from across Europe, continues to circulate.
Filmmakers at the Kinotavr film festival in the Russian resort town of Sochi last week also appealed for Sentsov to be released at the same time as highlighting the plight of Russian director Kirill Serebrennikov who is currently under house arrest on contested corruption charges.
Downey, meanwhile, says he remains gravely concerned Sentsov, whose health was already weak after his experiences over the last four years in a number of notoriously harsh penal institutions across Russia, may not survive.
"The latest news that we have is that Sentsov is preparing to continue the fight on behalf of all Ukrainian detainees, and is not preparing to back down," said Downey.
"Oleg was arrested four years and one month ago. The beatings he received in detention, the treatment he received in solitary in Moscow's notorious Lefortovo prison, his trial period in Rostov-on Don, as well as his remand in Prison No 1 in Yakutia, where the temperatures reach minus 60 C, and now a year in the 'White Bear' Prison Colony No. 8 in Labytnangi, in the north of the Arctic Circle, in the Yamalo-Nenets Autonomous Okrug, have taken a huge toll on the health of a man who was never that healthy in the first place," said Downey.
"But Oleg is a man of true grit and determination. Once he decides something, he stands by his commitment."