Constantin Film has been named Germany's most successful producer and distributor of German films for 2015.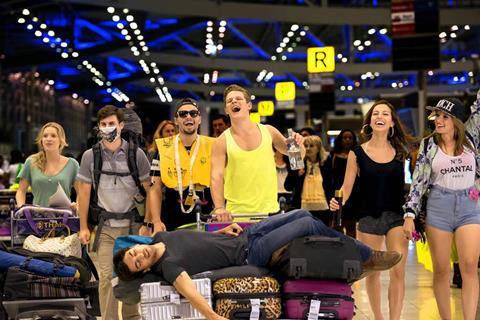 The Munich-based company was presented with the "FFA Industry Tiger" by the German Federal Film Board (FFA) at an awards ceremony in Berlin last night.
The award came with $3.8m (€3.4m) "reference" funding for the company to invest in future film projects and theatrical campaigns.
Constantin attracted more than $2.9m (€2.6m) in production "reference" funding for five in-house productions, including the year's leading film at the box office Fack Ju Göhte 2 and the comedy Er Ist Wieder Da, and distribution "reference" support of $968,000 (€851,000) based on the performance of nine releases.
"2015 was a superb year for us," Constantin's CEO Martin Moszkowicz said as he accepted the Industry Tiger Award. "[Fack Ju Gothe 2] was the best film in the company's history."
He added that Constantin is set to produce or co-produce 14 feature films in 2016 and said that the €2.6m in production "reference" funding would be a very welcome addition to the financing.
The automatic "reference" funding is paid out to a producer if their German film (or a German co-production with another country) has reached at least 150,000 "reference points" in Germany within one year of theatrical release.
These "reference points" are calculated by the FFA according to a film's commercial success and can be supplemented with additional points if a film is invited to screen in competition at certain international festivals or subsequently wins one of their top awards.
More points can be generated, for example, by being nominated for or winning a European Film Award, Golden Globe or Oscar.
Victoria victorious
Although Fack Ju Göhte 2 was the year's biggest box-office draw with more than 7.6 million admissions, this generated only a maximum allowance of 600,000 "reference points".
Sebastian Schipper's Berlinale competition film Victoria, meanwhile, was able to combine its 388,952 admissions with an additional 350,000 points collected from the six German Film Awards and Berlinale participation, to post an overall total of 738,952 points to become the distribution Industry Tiger winner for 2015.
In addition, producer Jelena Goldbach of ZAK Film Productions was able to collect the Industry Tiger – with a financial award of $92,000 (€81,070) - for the internationally successful The Chicken by Una Gunjak as the most successful short of 2015.
In total, the FFA paid out $26.4m (€23.2m) to 2015's most successful producers, distributors and exhibitors, with $18m (€15.9m) going to producers (compared to $13.7m/€12.1m last year) and $4m (€3.6m) to distributors.