EXCLUSIVE: Screen can reveal a first-look image from the comedy-horror.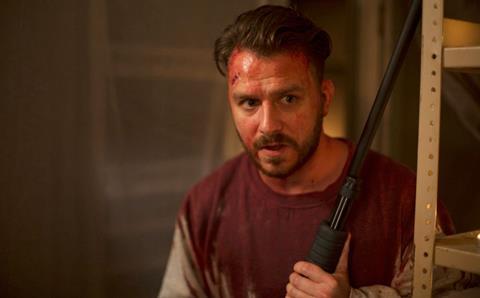 Daniel O'Reilly, aka controversial comedy character Dapper Laughs, has wrapped shooting on his debut feature film as an actor, the vampire comedy Fanged Up.
Directed by Christian James (Stalled), the film's cast also features Steven Berkoff (The Girl With The Dragon Tattoo), Lauren Socha (E4 series Misfits), Danielle Harold (Eastenders), former WWE wrestler Stu Bennett, and Joe Egan (Sherlock Holmes).
The film was shot entirely on location in Portsmouth. It follows a young rogue (O'Reilly) who is thrown into prison for the weekened, unaware that the guards are blood-sucking vampires and the inmates are their victims.
Fanged Up was produced by Terry Stone (Anuvahood) and Richard Turner (Nativity!), with Chris Howard (The Messenger) as executive producer. It was financed by film financer Investor Profit Portfolio and The Wealth Advisory.
O'Reilly co-wrote the screenplay with Nick Nevern (The Hooligan Factory) and Dan Palmer (Stalled).
Further cast include former Big Brother contestant Chris R. Wright, Vas Blackwood (Mean Machine), Stephen Marcus (Fast & Furious 6), Roland Manookian (Football Factory), Terry Stone (Rise Of The Footballsoldier), Huw Samuel (Brotherhood), and Youtube star Anto Sharp.
"We are both really excited to have partnered together on this exciting comedy horror, which is squarely aimed at the 15-25-year-old cinema going market. We're pleased to have cast an exciting mix of social influencers alongside some of Britain's best comedy and dramatic actors," commented Terry Stone and Richard Turner.
O'Reilly shot to prominence under his stage name Dapper Laughs, his controversial pick-up artist and social media personality. His brief stint as host of ITV2 show On The Pull was ended by the network when, at one of his live shows, he claimed a female audience member was "gagging for a rape". A future tour was cancelled following criticism of the comments but O'Reilly returned the comedy circuit in 2015.