A delegation of film industry professionals discussed the EC's proposed copyright reform with vp Andrus Ansip.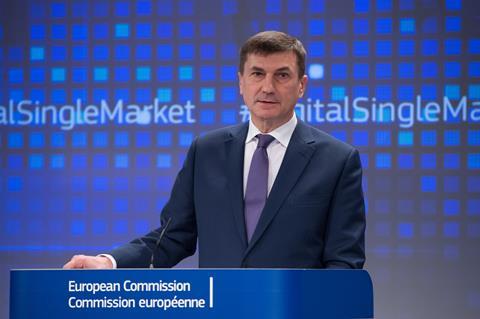 The European Commission's plans for copyright reform have been discussed today (Friday Nov 13) at a meeting hosted by the EC's vice-president Andrus Ansip in Brussels with a delegation of filmmakers, including Oscar-winning director Michel Hazanavicius and Danish filmmaker Susanne Bier.
The delegation also included UniFrance Films president Jean-Paul Salomé, German screenwriter Fred Breinersdorfer (co-screenwriter of the Berlinale Competition title 13 Minutes), Belgian actor-writer-director Lucas Belvaux, Polish producer-director Dariusz Jabłoński, vice-president of the European Producers Club, and the French filmmakers Eric Lartigau (La Famille Bélier) and Dante Desarthe (Le système de Ponzi), co-presidents of the L'ARP producers' association, and Denmark's Annette J. Olesen, director of the crime thriller The Shooter.
The high-level rendez-vous comes less than a week before Ansip will be travelling to his home country for the European Film Forum (18-19 November) during this year's Black Nights Film Festival in Tallinn (Nov 13-29), and comes just days after the leaking of the EC's draft communication on "a modern, more European copyright framework" in its Digital Single Market (DSM) Strategy.
Today's exchange of views with Commissioner Ansip follows on from a meeting of European filmmakers with the digital society and economy commissioner Günther Oettinger during last May's Cannes Film Festival.
In June, Ansip had spent an hour discussing the Commission's plans for copyright reform with veteran French director Bertrand Tavernier and UK filmmakers Roger Michell and Hugh Stoddart, who are patrons of the Brussels-based Society of Audiovisual Authors (SAA).
However, shortly after that meeting, Tavernier sent a letter to the Commissioner, pointing out that, even though Ansip spoke about cinema, it seemed that "you think about music, your examples and references are based on the music industry. Whereas the financing of music is nothing like that of cinema."
Tavernier argued that priority should be given to "repair the injustices suffered by writers and directors who receive no royalties for the exploitation of their works in many countries" and suggested that this issue was "much more serious" than the lack of portability.
Territoriality
In a first response to the draft communication, SAA's executive director Cécile Despringre observed that "territoriality of copyright is back as the main obstacle" to the Commission's ultimate goal of full cross-border access for all types of content across Europe.
"Before this document leaked, the Commission was still assuring stakeholders that portability is not cross-border access," she said. "It will be limited to subscribers who temporarily travel outside their country of residence and services will be free to put in place authentication processes."
"Rightholders will be keener than ever to hear Commission guarantees that portability will not be used to circumvent territoriality," Despringre suggested.
She added that the issue of authors' fair remuneration is only developed "very briefly" in the communication and there isn't any indication of clear commitment for action.
"To compound it all, on top of targeting territoriality and not promising any concrete action on remuneration, the communication goes on to attack a source of revenue of creators, private copying levies."
"We still believe the objective of wider availability of European works is a laudable goal, we cannot repeat it enough, screenwriters and directors are the first to be frustrated when people cannot watch the works they have created," Despringre continued. "However, this availability needs to be sustainable."
Scriptwriting focus of 2015's final European Film Forum
The art of scriptwriting and developing creative content for international TV series will be the focus of the last edition of the European Film Forum for this year, in Brussel's BOZAR Arts Centre on 3 December.
Speakers will include the team from The Bridge – producer Lars Blomgren, showruner Anders Lundström, screenwriter Camilla Ahlgren, and distributor Tasja Abel of ZDF Enterprises – as well as screenwriters from Belgium, the UK, France and Germany such as Vincent Lannoo (Trepalium), Clive Bradley (Trapped), Ben Harris (The Paradise), Emily Ballou (Humans), Alex Berger (Le Bureau des Légendes) and Jan Bennemann (Transporter).