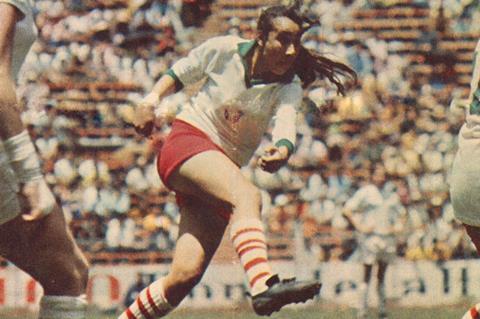 New works from One Child Nation director Jialing Zhang and Chuck Norris vs. Communism filmmaker Ilinca Calugareanu are among the 30 projects participating in CPH:FORUM, the financing and co-production market of CPH:DOX film festival.
The Forum will run from March 28-31, and will be the first in-person edition since 2019.
Scroll down for the full list of titles
Massachusetts-based Chinese filmmaker Zhang is participating with German-Dutch co-production The Total Trust (working title), produced by Knut Jager through Germany's Filmtank. The documentary will examine the growth of surveillance culture in China, from cameras to AI profiling.
Zhang's One Child Nation, co-directed with Nanfu Wang, debuted at Sundance 2019 where it won the documentary Grand Jury Prize; and went on to further acclaim including an Emmy nomination for exceptional merit in documentary filmmaking.
Calugareanu's Forum project is titled Celluloid Dreams, and is a UK-German series co-production, produced by Mara Adina for UK company Vernon Films. The five-episode series will head to Copenhagen having participated in the Berlinale Talents, and focuses on five stories from outside the mainstream that show how films can change the world.
Calugareanu wrote, directed and edited 2015 documentary Chuck Norris vs. Communism, which also debuted at Sundance, going on to festivals including HotDocs, Edinburgh, Sarajevo and Rotterdam.
Six Nordic work-in-progress titles have been selected for the CPH:WIP strand, including titles from Tonje Hessen Schei, Carl Olsson and Christian Sonderby Jepsen.
CPH:DOX says it is anticipating "hundreds" of attendees at the Forum, including the majority of the 72 participating filmmakers – although online engagement is also possible.
More than 200 financiers have confirmed attendance, including representatives from Disney+, Netflix, Hulu, BBC, CNN, Fremantle, Participant Media and the Sundance Institute.
The Forum will present the Eurimages Co-Production Development award of €20,000 for the event's best pitch of a project intended for co-production.
"The pandemic has deeply affected curation across the platforms and has further narrowed down the range of films and topics that are considered feasible to be made. It is our ongoing mission to nurture a space for originality and creativity, while making sure the projects we expose can indeed find their audiences" says Forum head Tereza Simikova.
CPH:DOX will run from March 23 to April 3, also holding its first physical event since 2019.
CPH:FORUM 2022 titles
A Fox Under a Pink Moon (Iran) dir-prod. Mehrdad Oskouei, Oskouei Films, Dreamlab Films
Body Parts (US) dir. Kristy Guevara-Flanagan, prod. Helen Hood Scheer, Chuparosa Films
Breaking Social (Swe-Chile) dir. Frederik Gertten, prod. Margarete Jangard, WG Film
Celluloid Dreams (UK-Ger) dir. Ilinca Calugareanu, prod. Mara Adina, Vernon Films
Climate in Therapy (Swe) dir. Nathan Grossman, prod. Cecilia Nessen, B-Reel Films
Copa '71 (UK) dirs. Rachel Ramsay, James Erskine, prod. Victoria Gregory, New Black Films
Cowboy Russ (Swe) dir. Tova Mozard, prod. Daniel Pynnonen, Picky Pictures
Girls Of Tomorrow (Fr) dir. Nora Philippe, prod. Estelle Robin You, Point du Jour – Les films du balibari
Hollywood Gate (Ger) dir. Ibrahim Mohamed, prod. Talal Derki, Jouzour Film Production
Look Into My Eyes (US) dir. Lana Wilson, prod. Kyle Martin, Drifting Cloud Productions
Megaheartz (Swe) dir. Emily Norling, prod. Melissa Lindgren, Tobias Jansen, Story AB
The Men in Gray (US-Ger) dir-prod. Ra'anan Alexandrowicz, prod. Heino Deckert, Ma.ja.de. Filmproduktion
Pik-Nuk (Hun-India-UK) Dir Arko Datto, prod. Balint Revesz, Luke W Moody, Tanaji Dasgupta, Good Kids
Portrait of a Confused Father (Nor-Fr) dir. Gunnar Hall Jensen, prod. Ingrid Galadriel Aune Falch, UpNorth Film
Queendom (Rus) dir. Agniia Galdanova, prod. Igor Myakotin, Sopka Films
Sink Or Swim (US) dirs. Tia Lessin, Carl Deal, prod. Jared Scott, Elsewhere Films
So Called Sisterhood (working title) (Switz-Pol) dir. Hanka Nobis, prod. Esther van Messel, First Hand Films
The End of Quiet? (Den) dirs. Kasper Bisgaard, Mikael Lypinski, prod. Sara Stockmann, Sonntag Pictures
The First Plantation (US) dir. Jason Fitzroy Jeffers, prod. Darcy McKinnon, Romola Lucas, Gustro Moving Pictures
The Gospel According to Matthew (Neth-Den-Ger) dir. Renzo Martens, prod. Sigrid Dyekjaer, Heino Deckert, Real Lava
The Great Art $windle (working title) (Den-Fr) dir-prod. Andreas Dalsgaard, prod. Christoph Jorg, Elk Film, Pumpernickel Films
The Human Race (Den) dir. Simon Lec, prod. Jacob Levin Krogh, prod. Move Copenhagen
The Human Surge 3 (Arg-Por-China-Fr) dir. Eduardo Williams, prod. Maria Victoria Marotta, Un Puma Cine
The Last Nomads (Ser-Mont-Fr-Cro) dir-prod. Biljana Tutorov, dir. Petar Glomazic, prod. Wake Up Films
The Total Trust (working title) dir. Jialing Zhang, prod. Knut Jager, Filmtank
The Whale Mystery (Den-Nor-Isr) dirs. Janus Metz, Klaus Thymann, prod. Peter Engel, Wingman Media
Unconventional Gardeners (It) dirs. Alessandro Bernard, Paolo Ceretto, prod. Massimo Arvat, Zenit Arti Audiovisive
Untitled Mistress Dispeller Project (US-China) dir. Elizabeth Lo, prod. Maggie Li, After Argo Films
Whitewash (Nor) dir. Andrei Nekrasov, prod. Torstein Grude, Piraya Film
Women of My Life (Iran-Switz) dir. Zahraa Ghandour, prod. Samir Jamal Aldin, Dschoint Ventschr Filmproduktion
CPH:WIP projects
Nasrin's voice (Fin) dir. Kaisa Rastimo, prod. Ella Ruohonen, Image Club Oy
Resorts (Den-Swe) dir. Mette Carla Albrechtsen, prod. Rikke Tambo Andersen, Tambo Film, Bullitt Film
Stayers (Nor-US) dirs. Julia Dahr, Julie Lunde Lillesaeter, Hannah Jayanti, prod. Natalya Sarch, Darcy McKinnon, Differ Media
The End – Allies for Armageddon (Nor-Swe-Fin-Ger) dir. Tonje Hessen Schei, prods. Torstein Parelius, Ingrid Galadriel Aune Falch, Christian Aune Falch, UpNorth Films
The Fake Will (Den) dir. Christian Sonderby Jepsen, prod. Mira Jargil, Moving Documentary
Vintersaga (Swe) dir. Carl Olsson, prod. Antonio Russo Merenda, Ginestra Film