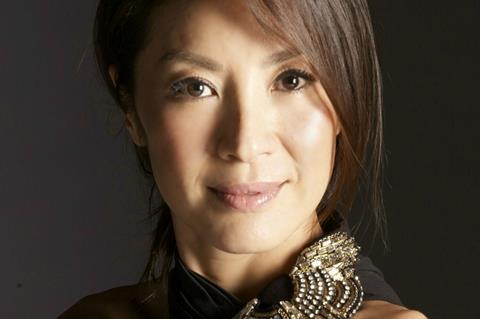 SK Global Entertainment and its international and US labels Ivanhoe Pictures and Sidney Kimmel Entertainment have announced a first-look deal with Michelle Yeoh and her company Mythical Films hot on the heels of the $35m number one North America launch of Crazy Rich Asians.
Yeoh stars in the rom-com alongside Constance Wu and Henry Golding. Warner Bros is moving ahead with a sequel with producers Nina Jacobson and Brad Simpson of Color Force and SK Global president John Penotti via Ivanhoe.
The first look deal includes producing, directing and select acting opportunities for Yeoh in partnership with SK Global and Mythical Films, who collaborated on Crazy Rich Asians.
"We are thrilled to be in business with such a versatile storyteller," said Penotti. "One would be hard-pressed to find a more universally loved and supremely talented global star. While collaborating with and getting to know Michelle during Crazy Rich Asians, it became abundantly clear that our shared interests telling a wide range of stories across many languages and formats would benefit greatly from this type of partnership. We look forward to the many stories we will tell together."
Yeoh added, "I'm truly excited to continue my relationship with Ivanhoe and SK Global to develop stories that bridge cultures. The success of Crazy Rich Asians has shown us that there are many more wonderful stories to tell from around the globe and I am delighted to partner with this very creative and wonderful team."
Malaysian-born Yeoh has starred in Crouching Tiger, Hidden Dragon, James Bond episode Tomorrow Never Dies, and Guardians Of The Galaxy Vol. 2., among others.
SK Global's upcoming projects include the psychological thriller and Toronto selection Greta from Neil starring Isabelle Huppert and Chloë Grace Moretz, and Hindi-language television series Ghoul, which is set to debut on Netflix on August 24.