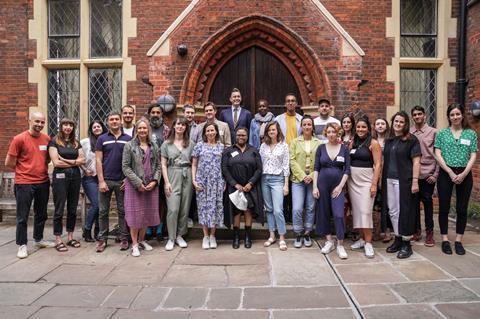 Creative England's iFeatures – the low-budget feature initiative backed by the BFI, BBC Films and ScreenSkills – has named the 12 projects that will take place in the latest round of its development lab.
Participants include Anna Griffin, a former Screen Star of Tomorrow who has credits including as co-producer on The Levelling and full producer on Calibre, both through her time at Wellington Films. Her project Boa Constrictor is from writer-director Tom Haines.
Another former Star on this year's roster is Helen Simmons, who has worked as a producer on Harry Michell's Chubby Funny and upcoming Ilkley. She has written the script for Maria, which is directed by Stella Scott and produced by Sorcha Bacon.
Also on the list are producers Emilie Jouffroy and Kamilla Kristiane Hodøl, the BFI Vision awardees at Elation Pictures, whose credits include 2017 London Film Festival premiere Tides. Their project The End is from writer-director Maria Martinez Bayona.
iFeatures is renowned for the success of the Bafta-nominated Lady Macbeth and 2017 Toronto premiere Apostasy, as well as two titles in this year's Cannes Great 8 showcase (Make Up and Perfect 10). It was relaunched last year as a year-round lab taking filmmakers through an entire cycle of development.
Last year, iFeatures took on the BFI's diversity targets for its selection. This year's crop features 50% female directors (down from 58% last year), and 42% BAME directors (up significantly from last year when only 25% of the projects had any BAME participants). There is also one filmmaker who identifies as having a disability this year.
Across the next 12 months, the filmmaking teams will participate in residential programmes designed to develop scripts and gear the projects up for production. As per last year, the BFI and BBC have jointly committed to ensuring that at least three of the selected projects progress to production. This year's programme has enlisted Suzy Gillett as the lab producer.
Of the 12 projects that entered the lab last year, Creative England says each now has a developed script and package, and are being taken to market by the producing teams. The organisation continues to support projects informally after the end of the programme, if required.
The selected projects and teams are:
Amrit (Rory Bentley, Writer/Director; Elizabeth Middleton, Producer) - The true story of a dual-heritage boy who baptises himself with a new name and identity in Scotland after losing his father and Sikh religion.
Beauty Queens (Billy Dosanjh, Director; Steve Camden, Writer; Kurban Kassam, Producer) - During the Birmingham race riots of 2005, two young boys struggle to reconcile their friendship with divided loyalties, as a growing hysteria forces them to take sides they may live to regret.
Black Church Bay (Rhys Jones, Writer/Director; Alex Polunin, Producer) - When a 17-year old male student tragically drowns during a secretive weekend getaway, his older lover must cover his tracks or risk revealing the truth about who he really is.
Boa Constrictor (Tom Haines, Writer/Director; Anna Griffin, Producer) - When a recently released prisoner inherits her family house, a plot to regain it is triggered by her estranged family who are seeking vengeance for the violent crime she committed.
I Don't Eat Meat (Alannah Olivia, Writer/Director) - It's 2030 and the UK is divided into ethnic 'sectors'. We hone in on the Cypriot sector, when one hungry & hormonal young woman dares break the rules, all chaos breaks loose. Will she find her freedom? 'My Big Fat Greek Wedding' meets 'Raw'.
In Camera (Naqqash Khalid, Writer/Director) - A classically trained, out-of-work actor becomes obsessed with imitating his new flatmate. Soon, fantasy and reality become dangerously inseparable.
Maria (Stella Scott, Director; Helen Simmons, Writer; Sorcha Bacon, Producer) - In a small Northern Irish town one woman tries to make amends in the aftermath of a tragic accident.
Phil And Iain (Fred Rowson, Writer/Director; Sabina Smitham, Producer) - When Phil suspects that his husband Iain has been replaced by an alien double, he must confront the problems at the heart of their relationship, if they are to be reunited.
Sleight Of Hand (Pier Wilkie, Writer/Director; Yvonne Ibazebo, Producer) - Lena's world spins off its axis when she is forced, within a few hours, to leave the life and person she's come to love, before her real identity is uncovered.
Surviving Earth (Aleksandra Bilic, Producer; Thea Gajic, Writer/Director) - Set in present day Bristol, a Serbian ex addict turned drug counsellor uses his passion for Balkan music to stay afloat and fight his unrelenting demons. But will it be enough to maintain his most cherished relationship with his daughter?
The End (Maria Martinez Bayona, Writer/Director; Emilie Jouffroy, Producer; Kamilla Kristiane Hodøl, Producer) - In a world where aging can be cured and mortality is almost non-existent, a 200 year-old woman decides to die and tries to confer meaning to her life and legacy.
Two Old Maids (Sarah Clift, Writer/Director; Pietro Greppi, Producer; Serena Armitage, Producer) - Warts-and-all farming life in 1800, Wensleydale, North Yorkshire. Two sisters, nearing 30, are desperately unmarried, until one receives a proposal letter she can't say yes to…