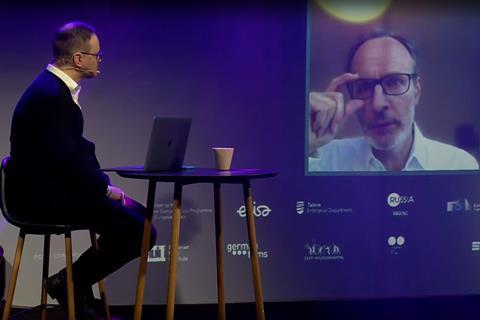 A major recovery plan for European cinema and culture will be at the heart of the new iteration of Creative Europe's MEDIA programme, according to one of its key architects.
Martin Dawson, deputy head of unit for MEDIA and the European Commission, told the European Film Forum on Monday that he had three ambitious goals for the next Creative Europe programme, which is due to begin in January 2021 with an increased budget of €2.2bn.
Speaking via video link at the forum, which took place virtually as part of Tallinn Black Nights Film Festival in Estonia, Dawson said the MEDIA action plan would focus on "recovery, transformation and empowerment" to revitalise the industry in the wake of the Covid-19 pandemic and pave the way for future growth.
"Our ambition is to turn this period of crisis into an opportunity for the transformation of the industry and be more competitive in the longer term," said Dawson.
"Europe is emerging from an extremely difficult period and we're already entering into a second phase of the Covid crisis. The containment decisions taken in several member states have had serious negative consequences: closed cinemas, a drastic drop in advertising revenues and liquidity problems."
He highlighted that all this "gloom and doom" had been offset by an "unprecedented recovery package" of €750bn to restart Europe's economy and included "a new source of financing to support the audiovisual industry".
"European culture and cinema are intrinsic parts of our identity and we recognize a healthy and pluralistic media environment is fundamental for our cultural diversity and democracy, so economic recovery is a precondition for all these things," said Dawson.
Action plan
While unable to divulge the full details of the MEDIA "action plan", which is being lined up for publication in December, Dawson did discuss the three pillars on which it would be launched.
"The first is recovery, to help companies survive this economic storm, supporting liquidity and investment," he said.
"Secondly, transformation: building long-term resilience and competitiveness of the industry. Looking at how to collect our data, exploit our data, innovate technologically, look at emerging markets like virtual reality and building on our talent and creativity. Europe, we should never forget, has many assets and advantages, notably our unparalleled, unique diversity of culture, our technical knowhow."
Dawson outlined how the third goal of the plan would aim to "enable the industry and empower citizens to exploit Europe's diversity as an asset". This, he said, could include citizens "accessing content across borders and developing all the diverse talents that we have in Europe".
He noted Europe had suffered from a "brain drain" of software engineers who are poached by global rivals to work on projects such as "building seamless user experiences for streaming platforms".
"All these skills are very much in demand, especially now as everything digital and virtual is growing exponentially during the Covid crisis, so there is a real shortage in the market which we will be addressing," he added.
"Even our biggest European players are remarkably smaller than their global competitors so we need to move on from that and have a new way of thinking where we see the European continent as their native market, just like their domestic market."