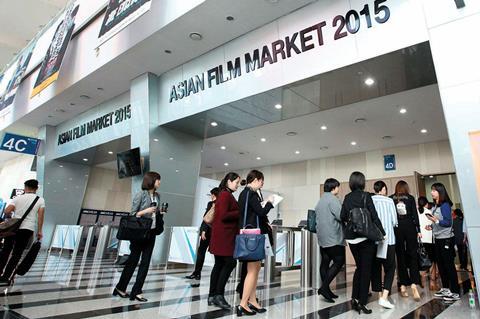 European sales agents are expressing ¨surprise¨ and ¨regret¨ at Creative Europe MEDIA's decision to cut support for European Film Promotion's (EFP) Film Sales Support (FSS) fund by 50% for 2018/19.
Until now, FSS had covered 50% of classical marketing measures up to a maximum of €5,000 for a sales company's promotional campaign, including at Sundance, Tribeca, Hot Docs, Toronto, Hong Kong's Filmart, the Asian Film Market in Busan or the American Film Market (AFM) in LA.
Sales companies who wish to apply for FSS support must become contractual co-beneficiaries, and have had the choice until now between single and slate funding applications, with the latter category allowing for synchronised campaigns of one film at Toronto and subsequent markets such as the Asian Film Market, the AFM or Filmart, in order to create a long-haul strategy.
Over the past 14 years, the number of European sales companies benefitting from the FSS fund had grown to more than 100, ranging from such players as Wild Bunch, The Match Factory, Trust Nordisk, Beta Cinema and The Yellow Affair through Belgium's Be for Films, the UK's Film Republic and Dogwoof to Italy's Slingshot Films and TV60 and Austria's EastWest Filmdistribution.
Emergency plan
However, the decision by Creative Europe's MEDIA sub-programme to cut its support for FSS by 50% to €250,000 for the next 12 months until June 2019 has forced the fund's administrator, Hamburg-based EFP, to draw up an emergency plan and adapt the fund's guidelines in order to stay within the reduced budget.
Thus, sales companies will only be able to submit one application per festival or market (until now, there had been instances of multiple applications such as Level K receiving grants for two titles, The St Bernard Syndicate and Amateurs, at Tribeca last April).
Moreover, the maximum grant available will be reduced from €5,000 to €3,500 per application for Toronto, Sundance, Hot Docs and the AFM, and to €2,500 for Filmart and the Asian Film Market, while slate funding will no longer be available for the time being for Toronto and the Asian Film Market or the AFM.
The reduced overall budget for FSS also means that the Tribeca Film Festival has had to be struck off the list of selected festivals and markets after being introduced as a pilot project in 2017 and then becoming a fully fledged participant this April with €21,000 paid in grants towards campaigns for six titles including Bankside's Jellyfish and The Match Factory's Smuggling Hendrix.
Swiss exception
At the same time, applications for the promotion of films from Switzerland will not be affected by the budget cut since the financial support from the EFP member organisation Swiss Films is separate from the Creative Europe and comes from the Federal Office of Culture, Media Desk Suisse and Swiss Films.
In 2017, Switzerland's so-called compensatory measures made available more than CHF 31,000 for FSS promotional campaigns of Swiss films at the selected festivals or markets, and over CHF 24,000 was allocated for campaigns after the April deadline this year.
¨Surprise¨ and ¨regret¨ at budget decision
In an interview with Screen, Films Boutique's Jean-Christophe Simon spoke in his capacity as president of Europa International about the budget decision.
¨It was a surprise and not something that we had been expecting,¨ he said. ¨We regret the decision because we had the feeling that Creative Europe was becoming more and more connected with the industry.¨
¨This cut could have a direct impact on many of us: for example, when a film is playing in a festival like Toronto, if we don't have the Film Sales Support, there's a possibility that many sales companies wouldn't take a press agent because there aren't many press in Toronto. But the FSS support allows one to take a little more of a risk.¨
¨I am not sure people would attend markets like the Asian Film Market in Busan or Filmart in Hong Kong if the support isn't maintained for all of the markets,¨ Simon explained. ¨These events are interesting to attend in order to discover new markets and meet new players, but they aren't cost-efficient if you look at things from the sales perspective.¨
¨It would be even harder for smaller companies to attend these markets, and it is likely that some will not be able to go to the American Film Market this year if there is no support available.¨
Indeed, the significance of the FFS fund for the international promotion and sales of European films can be seen by the line-up of 54 films from 19 countries at last March's Filmart when €106,000 in grants were paid out to such sales companies as Beta Cinema, Stray Dogs, Memento Films International and Reel Suspects for the promotion of such titles as Rupert Everett's The Happy Prince, Bodo Kox's The Man With The Magic Box, Deborah Haywood's Pin Cushion, and Malgorzata Szumowska's Berlin Silver Bear winner Mug.
Simon also regretted Creative Europe's decision ¨because Film Sales Support is the only programme supporting the export of European films, which, at the end of the day, is something bringing money back to Europe¨.
He also pointed out that the network of sales agents gathered under the umbrella of Europa International had been pursuing a close dialogue with EFP ¨to see how we can be more efficient and have greater flexibility to achieve even more results in the promotion of European cinema outside of Europe.¨
¨But we don't know if this [cut in the budget for FSS] is just a transition or a sign of the future [for a new generation of Creative Europe from 2021],¨ Simon concluded.