EXCLUSIVE: Company's debut slate includes Microwave feature Looted.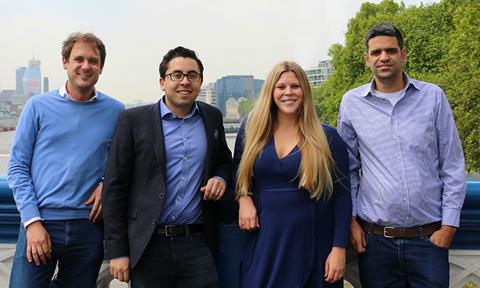 Film financier Creativity Capital and post-production house Creativity Media are joining forces to set up Riverhouse, a London-based film and TV production company.
The new outfit is launching its slate with Looted, the debut feature of Rene Pannevis, whose short film Jacked was nominated for a Berlin Crystal Bear in 2016.
Looted was commissioned through Film London's Microwave scheme, the low-budget film initiative that is backed by the BFI, BBC Films and Creative Skillset. Produced by Jennifer Eriksson and Jessie Mangum, the film follows a young man who makes a criminal mistake that will scar him for life.
Also on the Riverhouse debut slate is Polish thriller Tempelhof, co-produced with Wojciech Stulik of TFP, a remake of Creativity Media's 2012 film The List with Barry Films, and a project titled Red Star which is in development with Goalpost Film.
The new outfit will be headed up by Jennifer Eriksson [pictured middle right], Creativity Media's post production manager whose credits include Under The Shadow and God's Own Country, alongside Creativity Media founders Richard Kondal [pictured right] and Patrick Fischer [pictured left] with Creativity Capital's David Gilbery [pictured middle left].
Riverhouse intends to draw on Creativity Capital's financial expertise and Creativity Media's exposure to British filmmakers through its post-production work to produce talent-led projects.
Patrick Fischer explained that launching Riverhouse was a natural evolution of the two companies' work to date: "Between our finance and post-production companies we found there was an increasing number of projects and filmmakers we wanted to get more involved with. Moreover there are some stories we want to tell ourselves, as such production has been a natural move for us."
Jennifer Eriksson added: "I have always been interested in telling meaningful stories that connect and resonates with an audience. Through Riverhouse we will now be able to bring these stories to screen, through originating content and as co-producers on third party films."