EXCLUSIVE: Titles include Clouds of Sils Maria, starring Juliette Binoche, Kristen Stewart and Chloe Grace Moretz, and Damian Szifron's Wild Tales.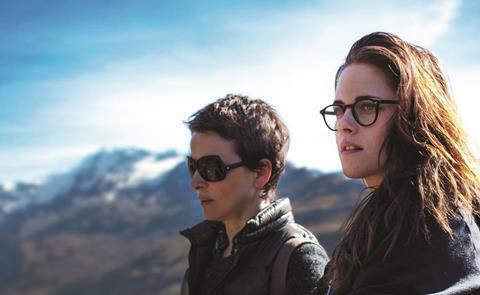 Curzon has acquired a raft of titles showcased at the Cannes Film Festival for release in UK and Eire.
The films include Palme d'Or nominated Clouds of Sils Maria, Olivier Assayas' follow up to Something in the Air, which stars Juliette Binoche, Kristen Stewart and Chloe Grace Moretz. The deal was negotiated with MK2.
Set in the Swiss alpine lake district of Sils Maria, Binoche stars as an actress at the peak of her fame who is thrown into turmoil after a younger woman is signed to play a role that made her famous two decades previously.
Another Cannes competition contender acquired by Curzon is Damian Szifron's Argentinean dark comedy Wild Tales, co-produced by Pedro Almodovar. The deal was negotiated with Film Factory.
Curzon negotiated with Coproduction Office for Ruben Ostlund's dark comedy Turist, winner of Cannes' Un Certain Regard Jury Prize.
Curzon continues its relationship with Call Girl director Mikael Marcimain with a pre-buy of his upcoming film Gentlemen and related TV Series Gentlemen & Gangsters.
The film and series follow a young author's descent into the murky underworld of post-war Sweden. The deal was negotiated with Carole Baraton at Wild Bunch.
Deals for two documentaries were also finalised at the festival. Wim Wenders and Juliano Salgado's Un Certain Regard Special Prize winning film Salt of the Earth follows the life and work of photographer Sebastiao Salgado and Gabe Polsky's Red Army uncovers the history of the Soviet Union and its Ice Hockey team.
The deal for Salt of the Earth was negotiated with Le Pacte. The deal for Red Army was negotiated by Wild Bunch.
These titles join Thomas Cailley's romantic comedy Les Combattants (Bac Films), Andrew Hulme's arthouse gangster thriller Snow in Paradise and Abderrahmane Sissako's evocative drama Timbuktu (Le Pacte), which were also picked up by Curzon's acquisition team.
As previously announced, Curzon also acquired Cannes Competition films Two Days, One Night and Leviathan, which will both be released later in 2014.
Louisa Dent, MD of Curzon Film World, said: "It was a busy and successful festival for us, and we are very pleased to present our upcoming slate of films."