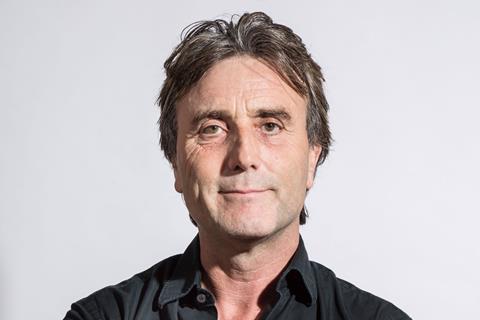 Bong Joon Ho's Parasite looks set to break records for UK distribution and exhibition outfit Curzon after becoming the first non-English language film to win best picture at the Oscars.
But Curzon CEO Philip Knatchbull has told Screen he "never dreamt" the South Korean drama would become such a breakout hit when the company first acquired UK and Ireland rights at Cannes last year, where the film won the Palme d'Or.
Nine months, two Baftas and four Oscars later, the film has already taken more than £2.5m at the UK box office and is set to expand from 136 sites to 430 this weekend.
Having previously been discreet about the release strategy, Knatchbull talked to Screen about the decision to partner with Studiocanal, pivoting from the company's usual day-and-date approach, why he believes Parasite has connected with audiences and working with Curzon's new owner Cohen Media Group.
What did Curzon see in Parasite that made you want to pick up the film at Cannes?
It wasn't one decision. It's no coincidence that if you continually take risks across a wide range of arthouse movies, at some point you're going to hit on something that transcends. We also have an amazing acquisitions team, led by Louisa Dent and Cate Kane, and already had a good working relationship with [Parasite producer] CJ Entertainment, because we'd handled Park Chan-wook's The Handmaiden for them – so we were a natural ally before the film arrived in Cannes and were talking very early on. Had we waited until it had gone into Competition, it would have been much harder for us to pick up.
When we saw it at Cannes, I'll be honest, while I thought it was a fantastic film, I never dreamt it would become the breakout hit it has become. But it's caught the imagination of the public because it's relevant to so many things in our society today.
Why did you decide to go for a 16-week theatrical window in the UK, breaking from your usual model of day-and-date releasing via Curzon Home Cinema?
There's a misunderstanding about Curzon's strategy is in regards to day-and-date releasing, the purpose of which is to combine marketing spend across theatrical and home entertainment – one targeted campaign to reach a larger audience and try to encourage different viewing habits.
When it came to Parasite, we felt the subject matter was such that it probably would work in the multiplexes and therefore would warrant protecting the 16-week window that the multiplexes insist on. So we're taking each film as it comes, deciding what's best for it in the current marketplace and then delivering it on that basis to maximise the economic return.
Why partner with Studiocanal?
If you want to release a film in a bigger way, it's sometimes better to partner with people who perhaps have more muscle than yourself. By partnering with Studiocanal, we felt we would be able to access a pay-TV deal that would be more likely to bring a bigger return to us than if we tried to sell the film directly to pay-TV.
They offered a deal which made economic sense to us, in terms of the pay-TV deal we could make if Parasite was a success. They would do all the theatrical sales and we'd do all the publicity, marketing and everything else.
Will your experience with Parasite change your release strategy going forward?
I'm afraid that comes down to the attitude of the multiplexes. If the multiplexes believe they can make money out of foreign- language movies, maybe they will invite our films to have proper bookings on proper terms, giving us enough notice so that we can coordinate marketing. But up until now, they've shown no interest at all. So we've decided to plough our own furrow and go down a different route that works for us.
You released the film on February 7, after the Baftas and on Oscars weekend, which has perhaps contributed to much of Parasite's box office success. Did you consider other dates?
Yes, we were considering the autumn… September, October. We agonised over it for ages and got a lot of criticism because there was so much pent up demand. We thought we might have missed the boat. But, actually, we haven't. We were gambling that it would get nominations at both the Baftas and Oscars. Therefore, for a small company like ours, we would be able to motor the publicity with rocket fuel in a way that we couldn't afford to pay with media spend in traditional marketing. That's exactly what has happened. We must have had £1m or £2m worth of media spend through free publicity because of the Oscars. We never dreamt that would happen. I think it's going to be the biggest film that Curzon [Cinemas] has ever shown and that includes the Bond movies, Star Wars, everything. It's on course to do that.
What has the Oscar wins meant for the release of Parasite?
It is phenomenal and changes everything. For a small company like ours, it's transformative. I've never experienced anything like this. We done a lot of great films from Love & Friendship and Cold War to 45 Years, The Handmaiden and Still Alice, all of them doing over £1m or £2m at the box office. We've done £2.5m in six days [including previews]. But after being so passionate for so long about bringing foreign language films to a larger audience, it has felt like something has shifted. If that means less prejudice against world cinema, that must be a good thing.
I also think Netflix has a big part to play in this by putting original programming out multi-territory across many different languages, which you can see in your own language through subtitles. I think a whole generation of people are being educated on subtitles because of that and it's going to make it much easier, I think, for more interesting films to be brought to larger audiences.
What conversations are you having with your new owner, Cohen Media Group, about your release strategy?
The conversation changes all the time as the market changes. But it's still early days, getting to know how each other works and what we can each bring to the other in terms of our own territories. By joining together, we're discussing how can we better our own pay-TV deals or better our own ability to acquire films in competition with the streaming giants. That was the strategy behind me deciding it was the right time for Curzon to become a part of a larger group. I don't think Charles Cohen would be doing that unless he clearly understood the vision that we had for the future of Curzon. It's very early days but, over time, I think you'll see some interesting things happen from Curzon.
Is your recent launch of a development fund to get in on the ground of films like Parasite?
It's obviously getting more competitive out there for different sorts of content. With the multi-territory acquisition policy of the streaming companies, we need to be a little bit defensive and play to our strengths. We want to pool our resources more and this seems like a sensible thing to do. Plus, we always get hit with amazing projects that people want to develop and we always have to pass them on to other people because we don't have development money so it's that as well.