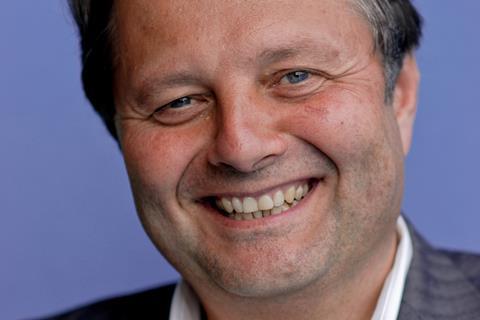 Cannes Marché du Film chief Jérôme Paillard has defended a move to increase accreditation costs for sales companies not taking a stand in the official exhibition hub for its upcoming edition, running May 12-21, saying it is necessary to ensure the sustainability of the market.
Under a new pricing structure unveiled at the end of last year, sales companies not taking a stand will have to sign up for the new, costlier Croisette Package if they want to book screenings.
There have been growing complaints about the price rise from independent sales agents in recent weeks as they start booking their attendance and taking stock of what the new plan means for their pockets.
Under the new formula, companies with an annual turnover of less than $2.1m (€2m) will pay $2,280 to $2,600 (€2,100 to €2,400) for three badges depending on when they register. This works out at between $761 to $870 (€700-€800) per badge.
The price for companies with an annual turnover of more than $2.1m (€2m) is $4,785 to $5,330 (€4,400 to €4,900) for six badges, or $797 to $887 (€733 to €816) per badge.
In the past, sales agents would have been able to buy an individual Marché du Film badge, costing between $347 to $369 (€319 to €433), and still book screenings.
"Exhibitors outside the Palais, even those without offices but working from a table at the beach, now have to take the Croisette Package in order to book screenings," one US Cannes habitué complained to Screen.
Another European agent said they felt like the market – which controls all the available screening facilities in Cannes – was holding the sales companies "hostage".
Responding to these comments, Paillard told Screen that the new pricing structure was the fruit of a period of reflection on how the market can balance its books and continue to offer top-class services as the film business changes and the numbers of sales companies taking stands in the main exhibition space edges down for a variety of reasons.
"Everyone who comes to Cannes does so because it is a highly performant event where they can do a large part of their business for the year," Paillard said. "At the same time, this event costs money to run. The market does not benefit from any state support and lives off its commercial receipts.
"It's also worth pointing out that as a subsidiary of the Cannes Film Festival, the market is a non-profit organisation. We're not a company that needs to pay dividends but we do need to balance our books. This became a bit more complicated from the moment that companies started leaving the main exhibition space to set up offices in apartments along the Croisette."
The reasons for these departures are multiple, ranging from personal preferences, to a desire to avoid tougher security measures imposed in recent years, to changing business models or the fact that businesses have rationalised or simply shut down.
"We understand why people might prefer to work out of apartments and historically we've always accepted people at the market who don't really contribute or only contribute a little bit, while they benefit from the thousands of buyers, producers and investors who come to Cannes for the festival and the market," Paillard continued. "To us it seems only fair that they make a contribution to the cost of running the market too. We've been careful to propose two different packages to cater for different-sized companies."
The market chief said he wrote to all the companies likely to be impacted by the change in December and prior to that he also did the rounds of the American Film Market (AFM) last November to canvas the opinion of the sales professionals on the ground.
"Nearly all those I met face-to-face were sympathetic when I explained it was not because we want to increase our profits, but rather because we want to ensure the sustainability of the market," he said.
The cost per badge more than doubles for companies taking the Croisette Package, but Paillard said it still remains reasonable.
"Overall it works out at roughly €1,000 ($1,084) more per company. According to our research, companies in the lower price bracket take on average three to four badges so they would have been paying €1,000 to €1,200 in the past," he explained.
"When a company comes to Cannes, the trip is going to cost a minimum of €20,000 to €30,000 ($21,000 to $24,000) when you factor in the travel costs, accommodation, restaurants, advertising and the screenings… €1,000 in the grand scheme of things is not so much. I don't think it's over the top."
The market chief also noted that screening fees – which cost between $433 and $2384 (€400 to €2,200) depending on the size of the theatre – and stand costs had been frozen this year. A long-time 20% discount on screening fees for stand-holders remains in place.
He also observed that the Cannes screening and badge fees remain far lower than those of the Berlinale's European Film Market and AFM.
"Perhaps our mistake was to not charge more in the first place," he said.
In a separate initiative, Paillard said the market had been working with local hoteliers to create a directory of affordable accommodation offering shorter stays during the Cannes Film Festival, which will soon be posted on its website.
"There's this preconception that you have to book a room for the whole period, but times have changed and this is no longer the case," he said.
The Cannes Marché is not the only film market rethinking its business model.
Earlier this month, the Independent Film & Television Alliance (IFTA) announced it was cutting AFM from its traditional eight days to six this year and will start the November 3-8 event on a Tuesday to reflect "the changing needs of the global film industry".
Paillard said that how to manage the second part of the market was a regular topic of discussion between him and his counterparts Matthijs Wouter Knol at EFM and Jonathan Wolf at AFM.
"We've all been rethinking the second part of the market but shortening our duration like the AFM is not an option for us or the EFM because we're tied to a festival," he added. "We can't just shut up shop when the festival is still running and people are still here with films in Official Selection.