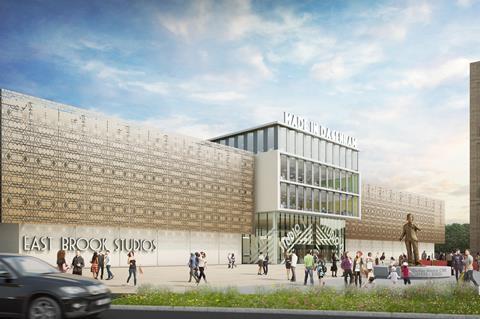 A newly-published study has backed the proposal for the building of a major film studio in London's Dagenham East.
The proposed studio, which would be the capital's largest facility, was previously backed by London mayor Sadiq Khan last year.
Commissioned by the mayor along with Film London, the London Local Enterprise Panel and the London Borough of Barking and Dagenham, the study cites Dagenham East as an appropriate location for such a facility.
The key findings were:
Demand: Due to the city's world-class skills, locations, crews and expertise, demand for studio space has never been higher. The value of feature film production spend in the UK in 2016 was £1.6billion, an all-time record. The large majority of this was associated with inward investment feature films, most of which are big-budget US-financed pictures. Much of this growth is focused on studios in and around London.
Capacity: Trends in the film and TV markets currently favour large, permanent studio spaces. Big-budget productions typically look for at least 125,000 square footage of stages, which this study demonstrates Dagenham East can accommodate. Other successful UK film studios are planning expansions but will not meet growing demand on their own, with modelling suggesting that the UK could need a further 800,000 square feet to 1.22m square feet of studio space by 2032.
Jobs: A studio of this size at Dagenham East could generate around 780 full time jobs in the local area and £35million for the economy.
Location: Barking and Dagenham is well connected, and the proposed site is midway between the City and the M25. It's directly opposite the tube station and close to the A13 and M11 motorways, providing excellent transport links for cast, crew and industry professionals. Its location would provide a clear trajectory for studio South East.
Barking and Dagenham Council will now invite expressions of interest from investors, entrepenuers and businesses regarding the site and will put the formal process to tender in 2018.
The potential site is a 17-acre plot located in London's East End.
Sadiq Khan commented: "London is a global capital for film - from Bond to Bridget Jones, and Star Wars to Paddington - our capital is world-renowned for its film industry and has at least 40 crews out on London's streets filming every single day.
"But we mustn't rest on our laurels. I want London to be the most film-friendly city in the world and today's study demonstrates the huge demand for large- scale film studios in the UK.
"I am determined to do more to support economic growth and create new jobs across London. A new film studio in Dagenham East will bring hundreds of new jobs to the area, benefiting everyone from carpenters to camera operators."
The study was conducted by economic consultancy SQW with BBP Regeneration and professor Richard Miller of the University of Hertfordshire.