Unstoppable Dangal crosses $100m; its dominance expected to continue until Pirates 5 opens.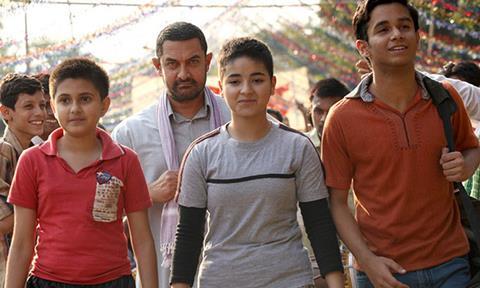 Indian wrestling drama Dangal continued its winning streak as it took the box office gold again in the week of May 15-21. It added $52.76m in its third week, which quadrupled that of its opening weekend and brought its 17-day total to a record-breaking $113.33m.
It has surged past Guardians Of The Galaxy Vol. 2, which opened on the same day despite with a much stronger opening weekend.
Already the top grossing Indian film, it has become the highest grossing non-Hollywood foreign film, surpassing Japanese animation Your Name. It has also overtaken its gross in India.
Although it gained more screenings over the weeks, the number of screens has never exceeded 30%. Its attendance reached a new height on Saturday, its 16th day of release, when box office receipts of $16.24m were recorded.
Starring Aamir Khan, the Indian film has achieved a cult status in China, with much ongoing debate over its miraculous success. The Chinese audience was not traditionally known to be so enthusiastic towards Indian content.
While Dangal contributed to over half of last week's box office, the overall box office dropped approximately 11% week-on-week as most of the new releases did not make much of a splash.
Disney's Guardians Of The Galaxy Vol. 2 maintained in second place with $14.06m for $94.64m after 17 days, surpassing its 2014's predecessor.
Sony's sci-fi thriller Life, starring Jake Gyllenhaal, opened in third place with $13.78m from its three-day debut. It was followed by King Arthur: Legend Of The Sword, which dropped to fourth with $2.46m for $7.74m after 10 days; Russian superhero film Guardians on $2.28m from its first three days; and Wine War, the directorial debut of renowned Hong Kong singer-actor Leon Lai, on $1.88m from its first three days.
Holdovers The Fate Of The Furious earned $1.74m for a 38-day total of $387.76m from an extended run and Hong Kong drama Dealer Healer took $1.45m for $5.64m after 10 days.
Another two new films rounded up the weekly charts: fantasy film A Monster Calls on $1.57m and local romance Special Encounter on $1.08m, both from their first three days.
Hollywood is set to make a grand comeback with Pirates Of The Caribbean: Dead Men Tell No Tales dated for May 26. To avoid head-on competition, the new Chinese titles, God Of War, Didi's Dreams, La Historia Du Un Amor and Edge Of Innocence, are scheduled to open one day later.