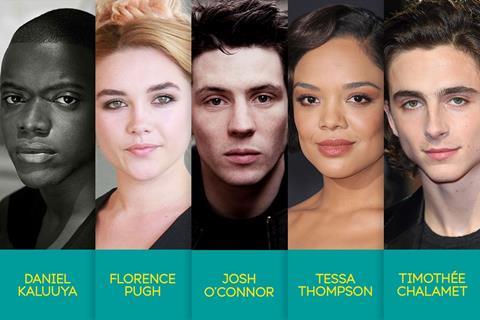 Bafta has announced the five actors in the running for the 2018 EE Rising Star Award.
They are:
Daniel Kaluuya
Florence Pugh
Josh O'Connor
Tessa Thompson
Timothée Chalamet
The winner will be voted for by the public and announced at the British Academy Film Awards on Sunday 18 February 2018.
English actor Daniel Kaluuya was the star of smash hit horror Get Out last year. His first major role was Skins, and he also appeared in Sicario, Kick-Ass 2 and Black Mirror. Next up for Kaluuya is the Marvel Studios film Black Panther.
Florence Pugh's breakthrough performance in 2017 was the critically acclaimed Lady Macbeth. Her other roles include The Commuter with Liam Neeson and the upcoming Fighting With My Family directed by Stephen Merchant.
Josh O'Connor played the lead role in Francis Lee's God's Own Country, which earned him the best actor award at the BIFAs. He'd previously appeared in Florence Foster Jenkins, Peaky Blinders and The Riot Club.
American actress Tessa Thompson starred in HBO series Westworld and Marvel adventure Thor: Ragnarok in 2017. She's also appeared in Dear White People, Selma and Creed. In 2018 she can be seen inAvengers: Infinity War.
Timothée Chalamet starred in two of the best reviewed films of the year; Greta Gerwig's Lady Bird and as the lead in Call Me By Your Name. His upcoming roles include Woody Allen's A Rainy Day In New York and Felix Van Groeningen's Beautiful Boy.
Spider-Man: Homecoming star Tom Holland took home the award last year. Other previous winners include James McAvoy (2006), Kristen Stewart (2010), Tom Hardy (2011), Juno Temple (2013), Will Poulter (2014), Jack O'Connell (2015) and John Boyega (2016).
This year the EE Rising Star jury, which selected the nominees, included actress Georgina Campbell, broadcaster Edith Bowman, Bafta award-winning director Philippa Lowthorpe; casting directors Lucy Bevan and Leo Davis; producer Nadine Marsh-Edwards; and jury chair Marc Samuelson.