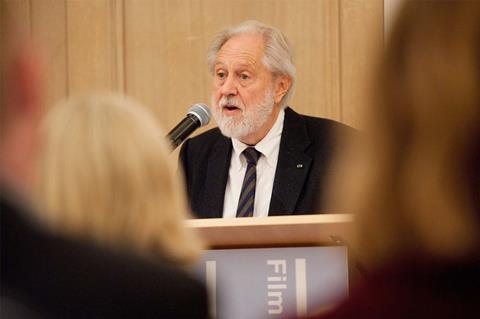 David Puttnam, president of the UK Film Distributors' Association (FDA), has addressed film industry harassment and technology challenges in a speech to distributors.
The Oscar-winning producer of The Killing Fields, Chariots Of Fire and Midnight Express was speaking at the FDA Christmas reception on Wednesday (Dec 6).
He said: "If there's just one valuable thing to come out of the sorry accounts of predatory abuse in our industry, it is… not just the widespread shock and revulsion. More than that, it's a shared determination that we've come to a point at which this type of behaviour will no longer be tolerated. Let's all make sure that determination remains rock-solid."
He said that the UK film sector "has to set an example of what a wholly trusted working environment can look like." He added: "Our expectations of ourselves, and the sense of opportunity we offer to everyone, must be, and be seen to be, of a very high order."
In his speech, Lord Puttnam also outlined the challenges and opportunities resulting from the growth of artificial intelligence in the entertainment industry.
He said: "Whatever your views about 'robots' and 'artificial intelligence' taking over our lives, this new age of automation is heading our way – fast. It's only a question of time before the entertainment sector will have to be re-modelled to accommodate ever-faster transformations. For example, for good or ill, we are already seeing the programming of cinemas by audience algorithms."
He added: "As I know from my work on the House of Lords' Committee on Artificial Intelligence, algorithms only operate on an accumulation of 'past probability', therefore will only look for 'hits', which leaves little room for our annual surprise successes.
"I'd argue that removing the 'human instinct' in an essentially creative environment may save on costs but will lead to all of us losing out in the long run."
Puttnam is currently in development on his first movie in more than 15 years: Arctic 30, a climate change-themed feature about the experiences of 30 Greenpeace activists who were thrown into Russia's prison system after protesting against drilling in the Arctic.