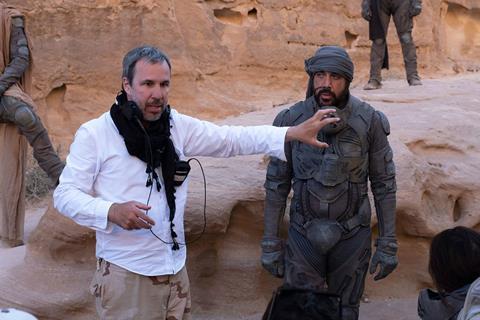 Denis Villeneuve, riding high on rave reviews for awards heavyweight Dune, will direct Arthur C. Clarke sci-fi adaptation Rendezvous With Rama for Alcon Entertainment.
The company has acquired the film rights to the novel which had previously been controlled by Morgan Freeman. The actor-producer will produce alongside his Revelations Entertainment partner Lori McCreary and Alcon.
Rendezvous With Rama was published in 1973 and takes place in the 2130s as a vast alien starship enters the solar system and humans intercept it in an attempt to unlock its mysteries. The book won the Hugo and Nebula sci-fi awards. Clarke's noted credits include 2001: A Space Odyssey.
Alcon will finance the project, and co-founders and co-CEOs Broderick Johnson and Andrew Kosove will serve as producers with McCreery and Freeman.
Alcon financed and produced Villeneuve's Prisoners starring Hugh Jackman and Jake Gyllenhaal and Blade Runner 2049 with Ryan Gosling and Harrison Ford.
"This is one of the most intelligent works of fiction in the genre," said Johnson and Kosove. "It poses as many questions as it does answers, and is a work for our time. It's perfectly fitted to our friend and collaborator Denis' brilliant sensibilities, and specifically to his love and passion for science fiction. We are also pleased to work with Morgan and Lori, who have a long-standing passion for this IP."
Villeneuve is among the frontrunners for the best directing Oscar and Dune, which is approaching $400m at the global box office and is expected to be in contention in the best picture and crafts categories. His next assignment sees him return for the second and final instalment of Dune for Legendary and Warner Bros.
The French-Canadian auteur earned a directing nomination in 2017 for Arrival and has received three Bafta nods in his career.
He will be the subject of a career tribute by American Cinematheque in Los Angeles in early January when he will attend in-person screenings of Enemy, Dune, Blade Runner 2029 and Arrival as well as a personal selection, Ingmar Bergman's 1966 psychothriller Persona.