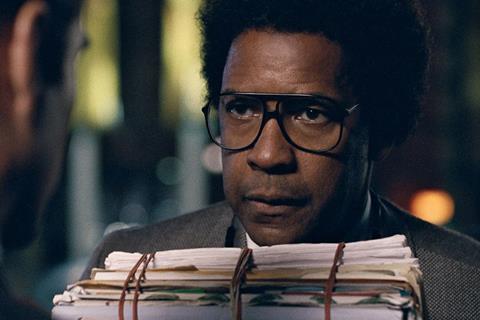 The Toronto International Film Festival has announced that the world premiere of Dan Gilroy's Roman J. Israel, Esq. will complete the 2017 Official Programme Selection.
Written and directed by Gilroy and starring Denzel Washington, Roman J. Israel, Esq. is the newest and final addition to TIFF's Special Presentations Programme.
Roman J. Israel, Esq. is a dramatic thriller set in the underbelly of the overburdened Los Angeles criminal court system. Washington stars as a driven, idealistic defense attorney whose life is upended when a turbulent series of events challenge the activism that has defined his career. Colin Farrell co-stars as the ambitious, monied lawyer who recruits Roman to his firm.
Carmen Ejogo, Lynda Gravatt, Amanda Warren, Hugo Armstrong, Sam Gilroy, Tony Plana, DeRon Horton and Amari Cheatom star alongside Washington and Farrell.
Jennifer Fox, Todd Black, and Washington produced, while Brian Oliver, Betsy Danbury, Charles D King, Kim Roth, Poppy Hanks, and Michael Bloom served as producers.
Adam Pincus, Aaron L. Gilbert, Alex Lebovici, Steve Ponce, Derek Dauchy, and Ben Ross also served as executive producers.
The film is a Columbia Pictures presentation in association with MACRO, Topic, Cross Creek Pictures, Bron Studios, and The Culture China – Image Nation Abu Dhabi Content Fund.
The project also reteams Denzel Washington with lead financiers MACRO and Bron Studios, who co-financed the actor's last film, the Oscar-nominated Fences.
"The Toronto International Film Festival has a wonderful history with both Dan Gilroy and Denzel Washington," said Cameron Bailey, artistic director of TIFF. "Three years ago TIFF had the honour of premiering Gilroy's directorial debut, Nightcrawler, at the festival. In addition to previously screening The Equalizer and presenting the world premiere of Training Day, which earned Washington an Oscar for best actor, the Washington-starring The Magnificent Seven was our Opening Night film last year. A project that teams up both of these remarkable creators is one not to be missed."
Gilroy commented: "We always hoped to premiere at Toronto and couldn't be happier that TIFF audiences will be the first to see the film. Thanks to Cameron and the entire Festival crew for embracing us and bringing Roman Israel to the world."
The 42nd Toronto International Film Festival runs from September 7 to 17, 2017.