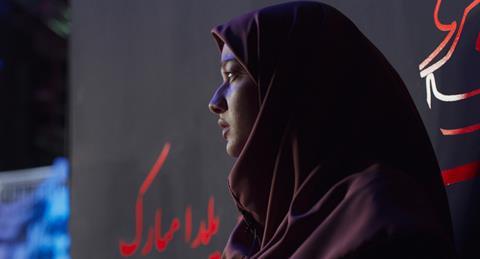 India's Dharamshala International Film Festival (DIFF) is taking place as an online event (October 29-November 4) with a line-up of Indian premieres and talk events with Asif Kapadia and Venice best screenplay-winning director Chaitanya Tamhane (The Disciple).
Indian premieres include recent festival award winners such as Massoud Bhakshi's Yalda – A Night For Forgiveness, which took the Grand Jury prize at Sundance; Babyteeth, winner of the Marcello Mastroianni Award for best young actor at Venice; and Visar Morina's Exile, which took the top award at this year's Sarajevo film festival.
Other recent critically-acclaimed festival titles on offer include Hao Wu's 76 Days, Gianfranco Rosi's Notturno and Arab and Tarzan Nasseer's TIFF Netpac Award winner Gaza Mon Amour.
Indian Documentaries include A Rifle And A Bag, directed by Arya Rothe, Cristina Hanes and Isabella Rinaldi; Pushpendra Singh's Pearl Of The Desert; and That Cloud Never Left from Yashaswini Raghunandan.
The panel discussion series also includes journalist Namrata Joshi in conversation with writers Juhi Chaturvedi and Varun Grover; and producer Shrihari Sathe moderating a session with fellow indie filmmakers such as Afia Nathanial (Pakistan), Deepak Rauniyar (Nepal), Geetu Mohandas (India), Tashi Gyeltshen (Bhutan) and Mostofa Sarwar Farooki (Bangladesh).
DIFF also features a shorts programme, which will screen An Invocation To The Earth, the new short from Locarno-winning Singaporean filmmaker Yeo Siew Hua (A Land Imagined) accompanied by a conversation with the director. The festival will also present an inaugural Audience Award for best first film among Indian shorts.
Dharamshala is located in the Himalayas in northwest India and is best known as the seat of the Dalai Lama in exile. Filmmakers Ritu Sarin and Tenzing Sonam (The Sweet Requiem) launched the festival in 2012 with the aim of bringing international arthouse cinema to India, encouraging local filmmakers and creating a platform to engage the region's diverse communities.
"Although we were initially unsure about taking DIFF online, now that we've taken the plunge, we're really excited by the possibilities that this has opened up. The online edition of DIFF will be able to reach audiences throughout India and some films will be available worldwide. The online format also allows us to programme many more films than we could normally and we are thrilled about that," said Sarin.
India's other major film festivals and markets have also either moved online or been cancelled due to the Covid-19 pandemic. Mumbai Film Festival has cancelled its 2020 edition, while Film Bazaar, organised by India's National Film Development Corporation (NFDC), will take place online January 16-21, 2021.