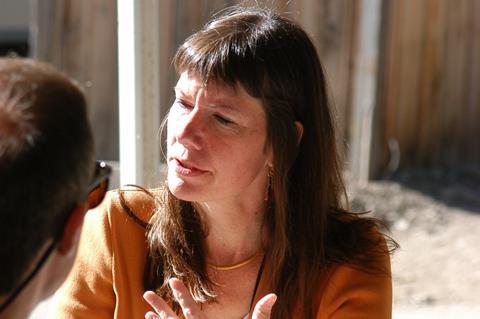 UPDATED WITH ACADEMY STATEMENT: Diane Weyermann, Participant chief content officer and a longtime champion of documentaries who was a driving force behind An Inconvenient Truth and American Factory, has died. She was 66.
Weyermann passed away from cancer on Thursday (October 14) in New York. Participant said she had "long been the engine behind the company's documentary film and television slate", adding that her work "defined the company" since it was founded in 2004 by Jeff Skoll.
"In the very earliest days of Participant, I was incredibly lucky to have Diane agree to run our newfound documentary department, including our first documentary, An Inconvenient Truth," said Skoll. "From day 1, Diane brought a passion to her work and cared deeply about the battles we helped fight over the issues portrayed in each film. Over 17 years together, she was a champion in every way, through strategic, industry, and emerging global challenges. Diane was the heart and soul of Participant."
Participant CEO David Linde said the company had lost its "leader and friend", a "steward" of Participant films who left "an indelible legacy that cannot be matched". Linde continued, "She brought integrity, passion, and unwavering commitment to every project she undertook. Her very presence transformed everyone at Participant and words cannot express how much we will miss her."
Linde will temporarily take on Weyermann's role until a new executive is named.
Former US vice president Al Gore, whose call to arms was the centrepiece of David Guggenheim's environmental jeremiad An Inconvenient Truth, said, "It is not hyperbole to say that Diane Weyermann changed the world for the better in a remarkable way." He added, "With her skill and passion, she spurred millions to become changemakers."
Participant former president of narrative film and television Jonathan King, Citizenfour director Laura Poitras, veteran documentarian Steve James and Food, Inc and American Factory producer Elise Pearlstein all paid tribute. Poitras said the impact of Weyermann's work would be felt "for generations", while James noted, "Diane was brilliant at seeing what my work was trying to be and helping me make it better, more impactful, and insightful."
Sundance Institute posted a message on Twitter that read, "The Sundance community is deeply saddened by the loss of Diane Weyermann, a singular force within the documentary film world. Among her countless contributions to independent storytelling over her career, she founded our Documentary Film Program. She'll be forever missed."
In a statement issued on Friday the Academy said, "We mourn the loss of Diane Weyermann, a dedicated Academy member in the documentary branch and a vocal champion of documentary and international film. She co-chaired the international feature film executive committee for two consecutive years, alongside other committee service. Diane always led with integrity. She was a bright light for filmmakers everywhere and a tenacious force for progress. She will be greatly missed by her friends at the Academy and in our filmmaking community."
Many others expressed shock and sadness on social media including filmmakers Julie Cohen and Alex Gibney, former International Documentary Association head Simon Kilmurray, and TIFF artistic director Cameron Bailey.
Weyermann's projects highlighted issues spanning climate change to government surveillance, the plight of refugees to the dignity of work and earned 10 Oscar nominations and four wins, eight Emmy nominations and three wins, three BAFTA nominations and one win, five Spirit Award nominations and three wins, highlighting issues spanning climate change to government.
She championed female-led projects at Participant, including Poitras's Oscar-winning Citizenfour, The Great Invisible by Margaret Brown, My Name Is Pauli Murray by Julie Cohen and Betsy West; Far From The Tree by Rachel Dretzin and John Lewis: Good Trouble from Dawn Porter.
The late executive also led the company to co-acquire distribution rights to films including Jonas Poher Rasmussen's awards season prospect Flee, RBG from Cohen and West, and Alexander Nanau's Oscar-nominated Collective. She served as executive producer on 48 documentary features ay Participant and served in the same capacity on seven TV series including James's America To Me and City So Real.
She was born and grew up in St. Louis and attended college at George Washington University, law school at St. Louis University and started her career in legal aid. She then went on to get her MFA at the film school at Columbia College in Chicago.
Prior to joining Participant in 2005, Weyermann was the director of the Sundance Institute's Documentary Film Program, where she was responsible for Sundance Documentary Fund and launched two annual documentary film labs, the Edit & Story Lab and the Documentary Composers Lab which she co-created with Peter Golub.
Before Sundance, she was director of the Open Society Institute New York's Arts and Culture Program where she launched the Soros Documentary Fund (later named the Sundance Documentary Fund). Weyermann was a member of the Academy's documentary branch executive committee from 2012-2018, served on the foreign language film award and international feature film award executive committees from 2016-2020 and co-chaired the committees from 2018-2020. She was also a member of the Television Academy of Arts and Sciences and the European Film Academy.
In partnership with Camden International Film Festival Weyermann's family, friends and colleagues have established the Diane Weyermann Memorial Fund that the festival's parent organisation Points North Institute will use to develop an ongoing programme to support emerging documentary filmmakers. The fund is launching with a grant from the Skoll Foundation.
Weyermann is survived by her sister Andrea Weyermann, her brother-in-law Tim Goodwin and nephews Dylan, Will and Harris. Memorial services will be announced at a later date.