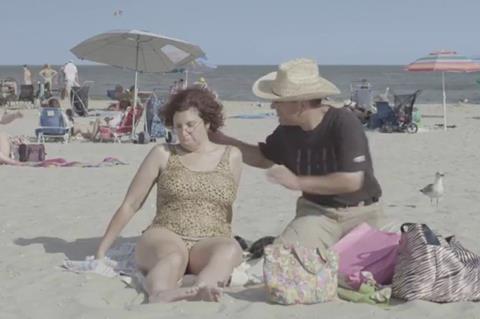 Dina directed by Dan Sickles and Antonio Santini claimed best feature at Saturday's (December 9) 33rd Annual IDA Documentary Awards.
Laura Checkoway's Edith+Eddie was named best short on a night when the career achievement award was presented to Lourdes Portillo in recognition of a body of work about Latin American, Mexican, and Chicano experiences and social justice issues spanning nearly 40 years.
"The Best Feature and Best Short award winners both represent unlikely love stories, each one tender, tragic, and ultimately life-affirming," IDA executive director Simon Kilmurry said. "Dina and Edith+Eddie are both distinguished by their unforgettable lead characters and their sensitive elicitation of universal truths."
IDA's Courage Under Fire Award – which is given from time to time to a filmmaker for "extraordinary courage in pursuit of the truth" – was presented for the first time to a group of filmmaking teams and their subjects. Kathryn Bigelow presented the award to City Of Ghosts, Cries From Syria, Hell On Earth: The Fall Of Syria And The Rise Of ISIS, and Last Men In Aleppo.
Documentary filmmaker and cinematographer Kirsten Johnson and Gini Reticker of Fork Films presented filmmaker, philanthropist and Fork Films CEO and president Abigail Disney with the IDA's Amicus Award in recognition of her work in support of peace-building and advancing women's roles in the public sphere.
Yance Ford, whose cinematic memoir Strong Island made it on to the Academy's documentary shortlist last week, was awarded the Emerging Filmmaker Award.
IDA used the ceremony to announce a $600,000 investment from the Jonathan Logan Family Foundation to support the International Documentary Association, including IDA's Enterprise Documentary Fund and Getting Real '18 filmmaker-to-filmmaker conference. As part of this initiative, the Jonathan Logan Family Foundation will provide four grants of $25,000 each to emerging women filmmakers of colour.
The complete list of winners:
Best Feature
Dina
Best Short
Edith+Eddie
Creative Recognition Award Winners
Best Cinematography
Machines
Best Editing
Dawson City: Frozen Time
Best Music
Brimstone & Glory
Best Writing
Donkeyote
Pare Lorentz Award
Watani: My Homeland
Intent To Destroy (special mention)
ABC News VideoSource Award
LA 92
Best Curated Series Award
Independent Lens
Best Limited Series
The Defiant Ones
Best Episodic Series Award
Planet Earth II
Best Short Form Series Award
The New York Times Op-Docs
David L. Wolper Student Documentary Award
Man On Fire