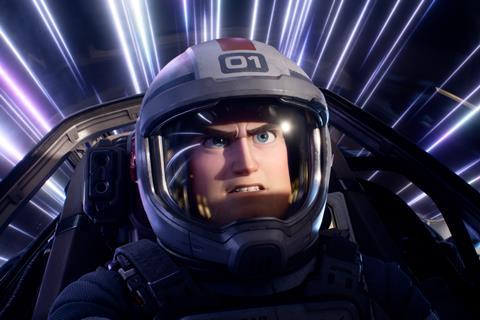 Disney+ added 14.4 million global members in the third quarter to reach 152.1m paid subscribers, beating Wall Street forecasts and allaying to some extent investor anxiety in a season when media giants have reported subscriber losses.
The growth, partly reflecting the platform's expansion into 50 new markets during the quarter, was part of a strong earnings report overall as The Walt Disney Company said revenues grew 26% against the year-ago period from $17bn to $21.5bn, driven by a rebounding theme parks business.
Net income climbed by 53% to $1.4bn as diluted earnings per share increased from $0.80 at the year-ago mark to $1.09. Disney stock was up 6% after the market closed.
Disney revises subs forecasts
Disney's total direct to consumer (DTC) subscribers reached 221.1m in the third quarter and while that number is greater than Netflix's recenty reported 220.7m subscriber count the way in which the companies calculate these metrics differ and do not stand up to an apples-to-apples comparison.
In cases where households pay for a bundle of all three Disney DTC platforms, for example, Disney counts a paid subscriber for each platform, whereas a Netflix subscriber is counted only once per household. Households that subscribe separately to Disney+ and ESPN+ are counted as two subscribers.
Q3 subscriber growth on Disney+, where Lightyear is a recent title to debut on the platform, marked a more than 10% quarter-on-quarter gain and beat analysts' estimates of a 10m member add.
Core global Disney+ subscriptions reached 93.6m, an increase of 6m from 87.6m in Q2, while Disney+ Hotstar reached 58.4m, up 8.3m from 50.1m. Core Disney+ membership in North America increased by 100,000 from Q2 to 44.5m, while international has grown by 6m from Q2 to 49.2m.
Anticipating a loss in Indian members after Disney + Hotstar lost Indian Premiere League Cricket streaming rights to Viacom18 (a joint venture between Paramount Global and TV18), Disney has revised subscriber targets and split subscriber growth guidance into core Disney+ and Disney+ Hotstar numbers. Disney+ global membership is forecast to reach 135m-165m by 2024, while the Disney+ Hotstar target is 80m. The combined 215m-245m range for Disney+ and Disney+ Hotstar compares to prior forecasts of 230m-260m in 2024.
Disney+ is expected to achieve profitability in fiscal 2024 powered by original tentpole releases, international local originals and the upcoming launch of the ad-supported tier. Disney CFO Christine McCarthy said in the earnings webcast with analysts she expected operating losses to peak in the current fiscal 2022.
Platform price hikes
Disney said on Wednesday it will launch its ad-free Disney+ Basic tier on December 8 at a cost of $7.99 per month. McCarthy said that at first no ads will run on kids' profiles or on pre-school programming.
The monthly cost of the current ad-free tier will increase on December 8 from $7.99 to $10.99 per month and will be renamed Disney+ Premium.
The monthly cost of Hulu with ads will rise on October 10 by $1 to $7.99, and the ad-free tier will increase by $2 to $14.99. Turning to the bundles, the US product combining ad-free Disney+, Hulu with ads and ESPN+ will increase by $1 to $14.99. The entirely ad-free premium bundle will stay at $19.99 per month. A previously announced ESPN+ price will see the $6.99 monthly plan go up to $9.99 on August 23.
Hulu added 600,000 quarter-on-quarter paid subscribers to settle on 46.2m. SVoD-only membership excluding the LiveTV component climbed 800,000 to 42.2m. ESPN+ ended the quarter with 22.8m paid subscribers, up 500,000 from Q2.
DTC revenue for the quarter increased by 19% to $5.1bn. However running a streaming platform is expensive. DTC losses came in at $1.06bn against $293m for the year-ago period and Disney expects to spend around $32bn on content this year, roughly one-third of it on sport and slightly down on the $33bn stated in its annual report last November.
Warner Bros Discovery CEO David Zaslav recently commented on the need to implement measured spending at his company and avoid growing subscribers at all costs. Netflix hierarchy have also intimated a shift towards profit amid declining membership.
The buoyant parks, experiences and products division continued to surge as customers defied spending forecasts shaped by high inflation. Revenue ended the quarter on $7.39bn, up 70% from $4.34m at the year-ago mark. Operating income grew by more than 100% from $356m a year ago to $2.19bn. Parks customers have been spending on the Lightning Pass, which costs $15 to enable customers to jump the line and is becoming a significant addition to the bottom line. In the cruises division, Disney has added a fifth ship, named Wish, to its fleet, Wish.
Content sales, licensing and other revenues grew 26% from $1.68bn a year ago to $2.11bn, driven chiefly by the success of theatrical release Doctor Strange In The Multiverse Of Madness, which has grossed more than $954m worldwide.