JULY 11 UPDATE: Fox International has now crossed the $2bn mark in 2016, marking the eighth consecutive year it has done so.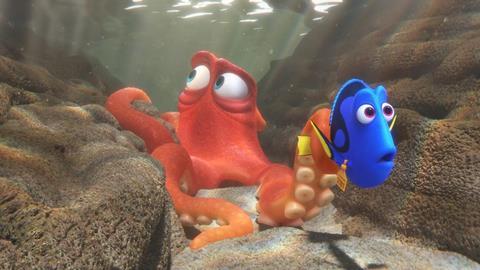 WALT DISNEY STUDIOS MOTION PICTURES INTERNATIONAL
The Walt Disney Studios has reached the $5bn threshold at the global box office in industry record time, and marks the second consecutive year that Disney has done so.
Finding Dory has swum past the $600m mark globally, with its $423m North American bow making it the biggest film of 2016 in the market.
Overseas, the latest Disney/Pixar outing grossed $29.7m from its 40 territories for $220.2m to date. In South Korea, it recorded the highest opening weekend for a Pixar release with $7.1m, while in Taiwan, it posted a chart-topping $1.9m.
Holdover-wise, Finding Dory added $3.8m in Australia with a fall of only 8% to retain the top spot for the fourth straight weekend and reach $30.1m and in Brazil, it posted a $5.1m second weekend for $17.1m so far.
Alice Through The Looking Glass sailed to an extra $5.5m from its 30 territories for $194.7m overseas. The fantasy sequel fell only 16% in Japan with a $3.5m second weekend for $12.3m.
Opening in New Zealand and Thailand, The BFG generated $4.6m from its four territories for an early $11.9m. In Australia, it boosted 25% with a $2.5m second weekend and a local tally of $6.6m.
Walt Disney Studios Motion Pictures International is distributing the Roald Dahl adaptation in Asia-Pacific and Latin America, while Mr Smith Entertainment has European distribution rights.
The Jungle Book and Zootopia stand at $575.8m and $680.5m overseas, respectively, and $936m and $1.02bn worldwide.
EDKO FILMS
Landing top spot in China was Longman Leung and Sunny Luk's action sequel Cold War 2 with an estimated $44m bow, according to ComScore.
FOX INTERNATIONAL
UPDATE: Fox International has now crossed the $2bn mark in 2016, marking the eighth consecutive year that Fox has surpassed this milestone, and the tenth time in its history.
Opening in 18 more markets, Ice Age: Collision Course rolled to $31.1m from its 25 markets for an early $56.6m.
Brazil led the way with a $4.5m debut for the biggest opening ever for the Ice Age franchise in the market, while the animated sequel recorded the biggest Fox opening weekends in Argentina ($3.8m), Central America ($2.2m) and Colombia ($2.2m).
Mexico and Germany provided strong holdovers to add $4.2m for $16.5m and $2.7m for $8.4m, respectively. Collision Course opens in 37 markets next weekend, including the UK, Russia, Spain, France, Belgium and the Netherlands.
Landing with a chart-topping $6.1m in Japan, Independence Day: Resurgence gained $20.1m from its 72 markets for $213m. It also opened with a strong $1.5m in the United Arab Emirates, ahead of releases in Germany and Switzerland next weekend.
Chernin Entertainment's raunchy comedy Mike & Dave Need Wedding Dates started its international run with $3.4m from its 19 markets, propelled by a $1.9m bow in Australia and a $637k debut in Russia.
Absolutely Fabulous: The Movie continued its terrific UK run with a $3.4m second weekend for $14.1m after ten days of release.
OTHER CHINA RELEASES
Beijing Enlight Media's animation Big Fish & Begonia enjoyed an estimated $32m start in China, according to ComScore.
Meanwhile, Beijing Ruyi Xinxin Film Investment's sequel Never Gone grossed $26m on its Chinese bow and Huayi Bros' Rock Dog posted a $3.2m debut.
WARNER BROS PICTURES INTERNATIONAL
UPDATE: After swinging into four major markets, The Legend Of Tarzan grabbed an extra $28m from its 46 markets for $56m to date.
The reboot is expected to land top in Mexico with $4.6m and second in the UK with $4.7m, respectively, while it opened with $3.2m in Australia and $2.6m in France despite the Euro 2016 football championships.
Produced by Warner with Village Roadshow Pictures, The Legend of Tarzan added $1.8m for $6.3m in Russia and $1m for $5.85m in South Korea, ahead of its opening next week in Italy.
Me Before You has hit the $100m mark at the international box office, with a $10.2m weekend from its 51 markets lifting it to $102.8m.
The adaptation opened with a terrific $1.5m in Russia, while Brazil became its leading overseas market as a 29% drop in its fourth weekend taking its local tally to $14.1m.
New Line's horror sequel The Conjuring 2 scared up an additional $6.8m from its 62 markets for an excellent $192.4m.
Mexico is currently its leading international market with $20.2m, followed by the UK on $14.5m and South Korea on $13.3m.
YASH RAJ
Punching into 14 territories, Bollywood blockbuster Sultan, starring Salman Khan, grossed an estimated $18.2m for $29m to date, according to ComScore.
PARAMOUNT PICTURES INTERNATIONAL
Teenage Mutant Ninja Turtles: Out Of The Shadows stands at $139.5m internationally following an $11.5m weekend from its 61 markets.
More than half of that total came from a $6.8m second weekend in China for $49.8m to date, while the sequel opened with $1.1m in the United Arab Emirates and Italy opened with a chart-topping $742k.
Out Of The Shadows opens in Germany and Japan next month.
LIONSGATE INTERNATIONAL
UPDATE: Now You See Me 2 conjured up $10.5m from its 68 markets for $178.5m to date, and a global tally of $240.6m.
Summit Entertainment's sequel launched with a preview-boosted $3.9m in the UK, while China has reached $92.7m after three weeks. It opens in South Korea next weekend.
UNIVERSAL PICTURES INTERNATIONAL
UPDATE: Central Intelligence shot to $9.7m from its 47 territories for $47.7m overseas to date.
New Line Cinema's action-comedy opened in Spain with $838k to chart second for the biggest debut for Kevin Hart in the market. Australia led the holdovers with a $2.3m second weekend for $7.9m after 11 days in play.
It opens in Egypt, Hong Kong, Italy, Lebanon, Middle East, Taiwan and the UAE next weekend.
To go with its huge North American bow, The Secret Life Of Pets hopped to $8m from its nine territories for $42.8m to date.
The UK continued its outstanding run with $4.7m for $30.2m to retain top spot for a third straight week, while Illumination Entertainment's animation opened in India with $493k.
Legendary and Universal Pictures' Warcraft marched to an extra $2.4m from its 56 territories for $383.6m internationally, including its $221m total in China.
Opening with $547k in the Philippines, Blumhouse Productions and Platinum Dunes' The Purge: Election Year added $2.2m from its 17 territories for an early $2.4m. It opens in the likes of Argentina and Spain next weekend.
SOUTH KOREA
CJ Entertainment's Seondal: The Man Who Sells The River is in a battle with Finding Dory for the top spot with an estimated $6.3m debut, according to ComScore.
In its second weekend, Showbox's Familyhood added $3.5m for $9.8m to date.
PATHE INTERNATIONAL
Camping 3, the latest instalment in the hugely popular franchise, posted an estimated $3.2m second weekend in France for $15.7m so far, according to ComScore.
SONY PICTURES RELEASING INTERNATIONAL
Following its successful North American run, The Shallows plunged into international waters with a $2.3m debut from its nine markets.
Russia provided more than half of the weekend take with a $1.5m debut, ahead of fellow new releases Mike & Dave Need Wedding Dates and Central Intelligence, while the shark thriller enjoyed a $650k chart-topping bow in Thailand.
It swims into South Korea, Mexico and Spain next weekend.
Opening in Spain with $1m, Money Monster unearthed a further $1.4m from its 49 markets for $48.7m overseas, with its final market of South Korea to open on Sept 1.