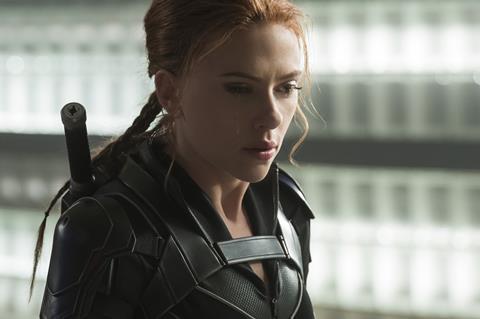 Disney has branded a breach of contract lawsuit brought by Scarlett Johansson over the day-and-date release of Black Widow as "sad and distressing" and highlighted the star's $20m payday.
The A-lister filed a suit in Los Angeles Superior Court on Thursday (July 29), arguing that her understanding when she agreed to play the title role in the superhero spin-off was that her compensation would be based largely on box office receipts.
According to the filing Johansson extracted a promise from Marvel that the release would be theatrical. Disney released Black Widow on July 9 in cinemas and on Disney+ Premier Access.
"As Ms. Johansson, Disney, Marvel, and most everyone else in Hollywood knows, a "theatrical release" is a release that is exclusive to movie theatres," the filing said. "Disney was well aware of this promise, but nonetheless directed Marvel to violate its pledge and instead release the Picture on the Disney+ streaming service the very same day it was released in movie theatres."
It continued, "In the months leading up to this lawsuit, Ms. Johansson gave Disney and Marvel every opportunity to right their wrong and make good on Marvel's promise. Unlike numerous other movie studios, however – including Warner Brothers who, on information and belief, settled with its talent on films such as Wonder Woman after it released those films "day-and-date" to its streaming service HBO Max last year – Disney and Marvel largely ignored Ms. Johansson, essentially forcing her to file this action."
The tentpole opened on a pandemic record $80m in North American cinemas and earned $158m worldwide in opening weekend. Disney took the unusual step of reporting that the film generated $60m on Disney+ in its opening weekend. Reports at the time made mention that the simultaneous release on Disney's subscriber platform was likely to have cannibalised potential box office revenue. To date the film has grossed $158m in North American and $160m in international cinemas for a $318m global running total.
Hours after reports of Johansson's lawsuit emerged on Thursday, Disney issued a statement in which it said, "There is no merit whatsoever to this filing. The lawsuit is especially sad and distressing in its callous disregard for the horrific and prolonged global effects of the Covid-19 pandemic. Disney has fully complied with Ms. Johansson's contract and furthermore, the release of Black Widow on Disney+ with Premier Access has significantly enhanced her ability to earn additional compensation on top of the $20m she has received to date."
The suit alleges that Disney intentionally interfered with Johansson's contract with Marvel, and that Disney induced Marvel to breach it. Johansson is asking for monetary and punitive damages in an amount to be proven at trial.
Johansson's attorney John Berlinski said in a statement, "It's no secret that Disney is releasing films like Black Widow directly onto Disney+ to increase subscribers and thereby boost the company's stock price – and that it's hiding behind Covid-19 as a pretext to do so.
"But ignoring the contracts of the artists responsible for the success of its films in furtherance of this short-sighted strategy violates their rights and we look forward to proving as much in court. This will surely not be the last case where Hollywood talent stands up to Disney and makes it clear that, whatever the company may pretend, it has a legal obligation to honor its contracts."